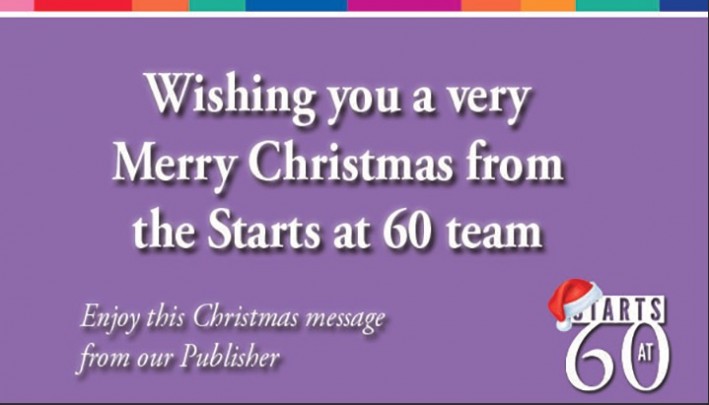 I can't believe that the end of the year is here already and 2016 is almost upon us!
Where did the year go? 

I hope that 2015 has been a good one for you. And I hope that 2016 is going to be even better. More than anything else, I hope you aren't lonely this Christmas.
At this time of the year I love to sit back and reflect on what has gone by. I have to say how grateful we are to work for you, our beautiful community of over 60s and all the contributing writers who make our site what it is… fun, interesting, and incredibly diverse. Thank you!
With Christmas approaching fast, we at Starts at 60 want to say thank you and to wish you all a wonderful Christmas season. We love to be here for you each day and we are excited to be working actively to bring you a special place online for over 60s.
As the year draws to a close, we have many of you to thank. I want to make a special mention of all the community members that write for us – please know the heart in your stories is something we find very special and we are delighted to be able to feature them daily (and we thank Dymocks for supporting you with vouchers for every writer's efforts!) A big thanks also to our community bookclub team who review books with passion and vigour that I never could have foreseen and have created a real destination online that authors love to be reviewed in and people love to read. Thanks to our community movie reviewers who are having a ball talking about films. And most of all a big thanks those of you who share our content, who comment regularly and who come looking every day for something to talk about… a huge huge thanks.
Everyone here on the Starts at 60 team wants our site and community to be different to other overly commercial media of today, focusing our attention firmly on what you want to talk about and ignoring what you don't. In doing this we know how much you want to hear from each other, and have built a community around all of us that is so much more than media, and one that is just for you. We encourage you to get involved in 2016 in a myriad of ways, but mostly by sharing your voice. Ours is a place where your opinion matters more than anything else, so we want you to send us your opinion pieces, your letters to the editor and your experience-stories of travel, leisure and life.
We don't talk much about ourselves here at Starts at 60, preferring it to be a place that is all about you all the time. But if you'll let me I'd like to reflect quickly on how far we've come. In two and a half years we have created the largest and most community engaged media and conversation environment for over 60s online, independently of any other media business. In fact, many who compare us to much larger and better established media brands can see we have much higher engagement, and more up to date content, of which we are enormously proud.
We have now got a sizeable physical newsroom with 13 wonderful staff, including an editorial and social team and the developers and commercial team required to support them. We have featured more than 300 community writers in the last 12 months, and edit all the work that is published with enormous respect. As the year draws to a close, we are reaching an audience of over 750,000 people reading close to three million page views per month and can reach up to 6 million people per week on social media. We've held more than 80 events across Australia and New Zealand this year, bringing small and large community groups together at Starts at 60 meetups and the movement is growing.  Every day it gets bigger we love doing it more.
To our wonderful core team at Starts at 60 I owe so many thank yous and don't often get to share them aloud. The team today spends every waking moment (from 5am each day) thinking of ways to make Starts at 60 awesome for you.  Most of them are not over 60 and we ask them every day to be aware of that; and I could not be prouder of every single one of them for how selflessly they serve. Our wonderful writers and editors, Emma, Jo and Jess start at 5am every day; Briana manages our social with such spunk, Karen who leads our Bookclub with passion, Siobhan who tirelessly seeks out style content, Mikael, Darren and Emanuele who are making sure the site can cope with the next stage of growth and Brett, Alastair and Kate who co-ordinate our commercial team making the wheels turn for our sponsors and supporters and make us able to grow. They all come to work for you! We're blessed!
To that I also must thank our annual sponsors, AustralianSuper, Connect Hearing, Dymocks and Hachette. We encourage you to support them as they are great supporters of what we do and want to help us bring it to you the way we do.
Our ambition remains really clear: to be the best place on the internet for over 60s. We want to bring you the things that matter every day, and to earn your trust as your favourite place online. We want to provide a place where you can share your thoughts, perhaps as a new age "letter to the editor" or "opinion piece" in which you can speak freely. We want you to come looking for information on our websites about all the things you can, should and might do, and we want to bring people together, online and off.
In the new year we've got a whole lot more excitement for you… but for now that's a secret. Being 60 has never been more fun, and there has never been a media outlet dedicated to making sure you can get the best out of each other, peer to peer, respectful of your opinions and without condescending or thrusting Kim Kardashian-style content at you. We're blessed that over the last two  years you've embraced us, right across Australia and New Zealand. Maybe, just maybe we can together make this bigger and better in 2016.
Before closing I want to ask for a favour if I may: we haven't really offered many people the opportunity to sign up for our email newsletter, but today I want to ask you to sign up with more than 26,000 others. We put out a daily, weekly and bi-weekly newsletter, and know that many read it religiously. We'd love you to help us get to 30,000 subscribers before Christmas. You can sign up here and select which one you'd like to receive.
And now I want to wish you a wonderful Christmas and plenty of things to talk about in 2016. We'll be publishing right through the break, and we invite you to send us your stories, letters to the editor and opinion pieces by emailing them to [email protected].
And please have a wonderful and safe Christmas.
Warm regards
Rebecca Wilson
Founder and Publisher of Starts at 60
And everyone on the Starts at 60 team sends their love and wishes too!
Comments