Melania Trump on the cover of... Vanity Fair Mexico!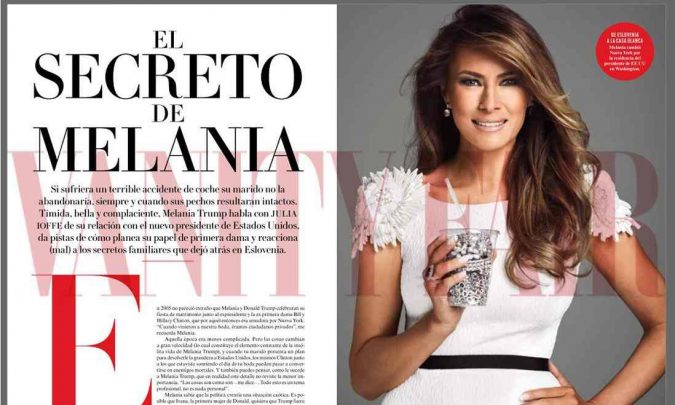 Did Vanity Fair nail it with this cover's timing or did they really mess up?
It seems like an awkward and antagonistic juxtaposition to see the new First Lady on the cover of Vanity Fair Mexico released today, in the same week her husband has confirmed with the US Executive that he will build a large and divisive wall between the USA and Mexico.
The confrontation between the two countries has lit huge concern for the Mexican economy, and seen a diplomatic crisis emerge of epic proportions and Trump-Mexico (rather than US/Mexico) relationship are said to be at a new low. But that didn't stop Vanity Fair putting Mrs Trump on the cover egotistically positioned with a fork and a set of pearls!
In a country where poverty is the average standard of living, the magazine is raising uproar. The issue has produced a long interview with the First Lady that appeared in GQ last year, dishing up on "her (turbulent) family past, the tactics for dealing with her husband and how she plans to turn herself into the new Jackie Kennedy".
"It's a lack of sensitivity on the part of the publisher," said Guadalupe Loaeza, a Mexican author and columnist. "I started reading this and I couldn't finish. I didn't want to know anything about the wife of our country's No 1 enemy."
The twitter outrage is pretty strong but we want to know what you think of the first lady eating jewels on the cover of Vanity Fair, and its timing.
Ad. Article continues below.
wrong on so many levels! why is #MelaniaTrump eating jewelry out of a bowl – on the cover of Vanity Fair Mexico? #VanityFail pic.twitter.com/9gvETcNNxS

— Bernhard Steiner (@bernhardsteiner) January 27, 2017