Malcolm Turnbull speaks out on Q&A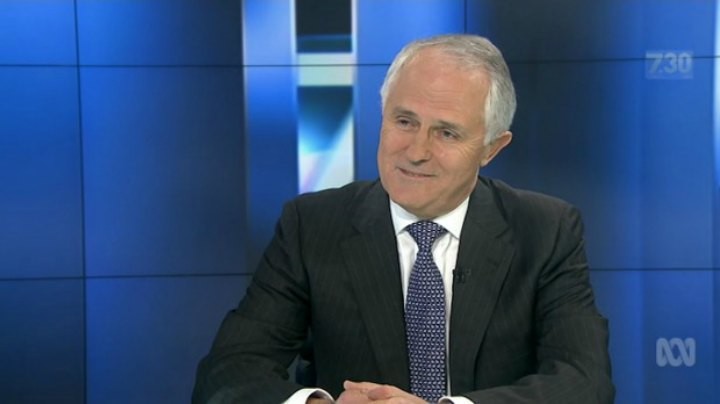 The power struggle between Tony Abbott and Malcolm Turnbull has been playing out for three weeks, ever since Zaky Mallah appeared on Q&A. So did Mr Turnbull defy the Prime Minister?
Well, he did and he didn't.
Mr Turnbull was in the ABC studios last night, but not at Q&A. Instead, the communications minister opted to appear on 7.30, interviewed by Leigh Sales.
When asked if he agreed with the boycott of Q&A, Mr Turnbull said, "Well, look, that's the decision the Prime Minister has taken".
"I mean, I've been on the record on this in the past. I take the view that wherever there is an open microphone I'm happy to get on the other side of it.
Ad. Article continues below.
"But the Zaky Mallah incident was a shocking error of judgment. The ABC has acknowledged that. We know all the facts surrounding it. They've issued a warning under the industrial agreement to the executive producer and there have been other changes made as well.
"I think the board has responded and is responding, and when its response is complete, that's the point the Prime Minister has decided and he's the boss, he is the CEO. That's the point he has decided the ban will end."
The Prime Minister has said he will allow frontbenchers to return to the show when it is moved to the ABC's news and current affairs division.
"I think most people would be rather surprised that Q&A, which is self-evidently a current affairs program, was not in the news and current affairs division already and hadn't always been so;  it makes sense to move it in there," said Mr Turnbull.
Ms Sales countered this point, saying Q&A was "an opinion show – it's not in the business of factual news reporting and the rigour that's involved in that".
Ad. Article continues below.
She asked whether it would be a "slippery slope" for the ABC to accede to Mr Abbott's Q&A demand.
"Aren't you a whisker away from saying ministers won't appear on 7.30 unless they can speak uninterrupted?" she asked.
"I do understand your point," Mr Turnbull said. "I think that's a very, very fair point. And I'm hopeful that the circumstances that caused this ban to arise will never occur again."
Again Mr Turnbull has emerged as the voice of reason, but this time, at least, it seems his is on the Prime Minister's side.
Do you think this will be the end of the Q&A debacle?