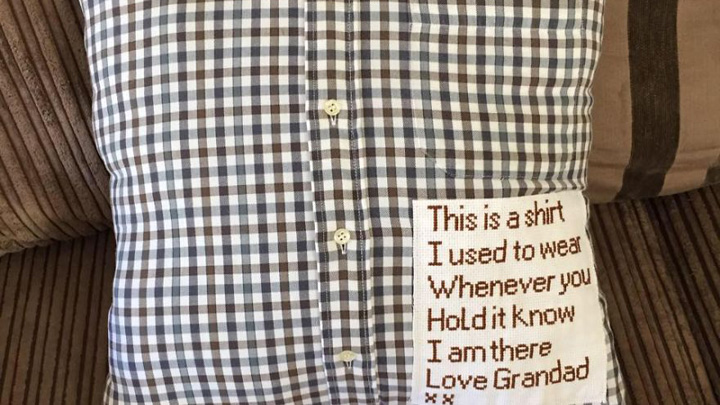 For any child who lives away from their grandparents, it can mean so much to feel that they have them near. This sweet idea combines old with new and will help comfort a child or special family member when they need it most.
This shirt pillowcase is an heirloom that can be passed down – who doesn't love grandpa's soft shirts?
Here's how to make this thoughtful gift.
What you'll need:
clean, ironed button up shirts
square throw pillows
sewing machine
scissors
pins
How to:
1. Start with a clean, ironed shirt. Hint: you can skip the sleeves because you're just going to cut them off.
2. Cut off the sleeves and put aside.
3. Turn your shirt inside out and place your pillow inside your shirt. Make sure it's in the position you want.
4. Pull together the bottoms of the shirt tightly and pin into place beginning at the centre (where the buttons are) and work your way out.
5. Trim the excess fabric, leaving at least 2cm margin from your pins.
6. Repeat steps 4 and 5 on the other three sides and remove the pillow. Sew away!
7. Once you finish the first side, pick up your shirt and give the pillow a little shake. Repeat on other sides.
8. Unbutton the shirt.
9. Remove the pillow insert and turn your shirt right-side out.
10. Put the shirt back on the pillow and button.
Easy!
This video demonstrates a no sew version:
Comments