Magpie swooping season begins. Do you live in a "danger zone"?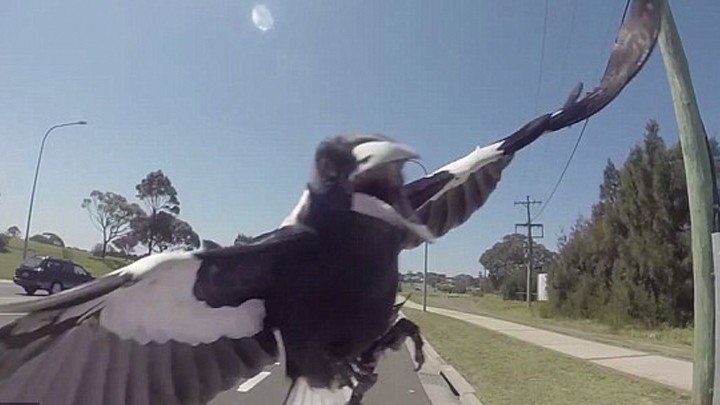 As human beings, we instinctively tend to see birds as harmless creatures. This is why it's so unnerving to be threatened with swooping from aggressive, overprotective magpies.
According to The Daily Mail, those of us in Queensland and New South Wales are most at risk of magpie attacks. But the concern spreads all over Australia; local councils around the country are taking major action to protect us against the fiercely protective bird this swooping season.
Some councils are putting up "magpie danger zone" signs to warn passing pedestrians and cyclists. Others are actively culling the most aggressive birds.
While magpie swooping season technically runs between July and December, September is traditionally the worst month, as magpie eggs will hatch and the parents will get fiercely protective.
One of the biggest incentives in these new measures is to protect children; multiple Queensland and New South Wales kids have been left with face and eye injuries this month.
Ad. Article continues below.
How can you find out if you or your family live in a danger zone? And how can you steer clear? One resourceful internet user came up with a simple, clever solution for all Australians.
Magpie Alert, a website dedicated to sharing and warning others of attacks, is a particularly useful time of year. If you encounter an aggressive magpie, simply log the attack online so others in the community can be cautious. Similarly, you can read others' experiences to help yourself stay safe.
For Queenslanders, Little Dock and Stanley Streets in South Brisbane both particularly hazardous, with multiple reported attacks.
Sydneysiders are warned to be careful on grass near Glebe's Northcott Road in central Sydney, North Cremorne Wharf on the North Shore of Cremorne Point, and Percival Road in Stanmore.
'It shouldn't take children being seriously injured with a risk of permanent blindness before something is done to prevent this happening", wrote one parent on Magpie Alert.
Ad. Article continues below.
Canberra had to take some particularly drastic measures, euthanising several magpies around popular picnic areas.
'Some people have been injured as a result of aggressive magpies in the area, including one young child who was scratched on the face,' a spokesperson of the ACT Parks and Conservation told the Daily Mail.
"In this instance relocation was not an option because of their large numbers and because magpies, as territorial birds, are likely to return to the place they were removed from".
Worried about encountering a magpie? Some common safety tips include:
Listening carefully for their distinctive calls.
Wearing sunglasses and a hat for protection.
Getting off your bike if you are swooped while cycling.
Carrying an umbrella or wearing a wide-brimmed hat.
Remaining calm rather than provoking it with self-defence.
Are you worried about magpie attacks? Have you ever experienced one? And how far would you go to keep you and your family safe from this overprotective bird?