Madonna - Not ageing very gracefully!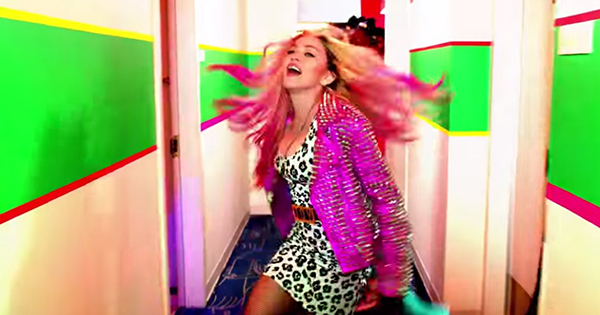 The popstar of the Gen Xers' youth, and the cultural misnomer of the baby boomers, Madonna at 57-years-old has released her next video for the song "Bitch I'm Madonna" dressed in clothes most would judge as not exactly graceful. Leopard dress, gold teeth, pink hair the whole shebang! She looks 27! Not a day older! But why should she do it gracefully? When has Madonna been graceful?
Madonna has been pointing out for decades that her age is not going to slow her down and in a major New York Times piece this week, her crusade against age discrimination is the hot topic.
She's called detractors "jealous bitches" on Instagram, and accused people of being envious of her.  Perhaps we are… Have you stopped to consider whether her fountain of youth is in fact the reason people seem to dislike her so much across this generation of baby boomer?
The internet is not all that kind to Madonna these days. A quick scan of Twitter hashtags and commentary shows a whole lot of people casting persuasion about her age and as the New York Times calls it…  "her febrile determination to be the world's youngest, raunchiest 56-year-old".
Ad. Article continues below.
 "It's relentless: the awkward onstage kiss with Drake, the topless shot in Interview magazine, the strenuous demonstrations of libido. Alongside an Instagrammed photo of the male model Andrea Denver, she wrote "8 pac! Hell to the Yeah!" (This was followed by three heart emojis and a thumbs up.)"
There's lots of people passing judgement on her clothes, her music, her health and fitness, and even her skin, which let's be honest, looks pretty darned good. There's no doubting it, she's a popstar… and she wants to stay one and that means the parental generation of the people she is targeting with her message will probably not like her – isn't that her job…. to appeal to the rebel in the youth by polarising their parents?
And whilst a whole lot of people don't like her, fact is, she's at the top of her game. In fact Billboard just called her out as having the most number ones of any artist on the Billboard charts in history – 45 number ones!
Ad. Article continues below.
Let's face it, what Madonna has got going on at 57 years gives us all great entertainment, even if we don't really want to watch! She is the fountain of eternal "trying to be" youth.  We may as well watch on in awe.
Ad. Article continues below.
Growing older with Madonna http://t.co/rsDR1Y9Yt3 pic.twitter.com/kCTain2Hv3

— The New York Times (@nytimes) June 25, 2015
To all the people calling Madonna "old": it's going to be a real shock when you figure out the aging process. #YoullGetOldToo — Sarah Colonna (@sarahcolonna) April 14, 2015
Ad. Article continues below.
With all due respect to Madonna, I'm not going to follow her lead in the aging process …. http://t.co/4xO39joRWw

— Stephanie Strom (@ssstrom) June 25, 2015
Hard to believe 90s Madonna and 2015 Madonna are the same person. It's like her maturity is now aging in reverse. Still love her but damn… — Robots With Rayguns (@robtswthrayguns) June 17, 2015
Ad. Article continues below.
The Bitch I'm Madonna video is the worst shit I've ever seen. Desperate attempt for an aging pop star to stay relevant. #verysad

— Josephine (@notmyname02) June 17, 2015
Do you guys realize when you mock Madonna for her age you're just promoting the idea that it's ok to mock aging female pop stars? — van der woodsen (@drugproblem) May 1, 2015
RT @jillsobule: Slagging on Madonna because of her age. http://t.co/U9ZO3QqE2d via @SLAwrites < srsly?!? Like she could avoid aging?

— Bob Blakley (@bobblakley) April 15, 2015