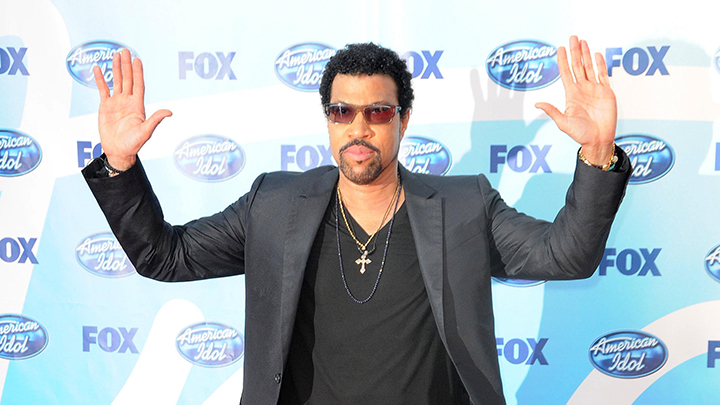 Ever wondered who had a bigger Afro in the early days – Lionel Richie and the Commodores or The Jackson 5?  Well Lionel Richie put that big question to rest yesterday, confirming it was The Jackson 5.  In fact, the two bands once measured their hairdos to settle the issue apparently, and they won.  Lionel Richie debuted his eponymous Home Collection Tuesday at Gramercy Park, where he answered the age old question: Who had bigger Afros, his old band The Commodores or The Jackson 5?
"It's only because they had a little bit more youth on us," the 66-year-old singer is quoted as saying in the New York Daily News. "That's the only reason. When you have a competition with a 9, 10, 11-year-old (against) a 21-year-old, they're going to beat you every time. They're going to keep growing hair."
The larger and more relatable topic Richie spoke of in releasing his new Home Goods Collection in New York, was how tough it was being the father of a wild child, his adopted daughter Nicole Richie through her teenage years and how it kept him skinny.
"I will give you Nicole Richie as a daughter and you're going to be thin too. Her teenage years through her early 20's, damn near tried to kill me," he joked to the media.
Richie is back at the parenting teenagers game again, with 17 year old daughter and model Sofia now drawing on his experience again.
"I have a gun… I am patrolling," he joked. "I told her, 'Nicole has already tried to kill me. Go back and talk to her and then don't do that. That's all. Don't do that to me because I'm getting older and weaker as time goes on.'"
Richie has released a range of homewares that are being sold in the US, online and are soon to be stocked in American stores.  It's a different time of life for him he admitted and he is no longer spending time in clubs but instead going to the bazaars and fairs.  He still "shocks" people, but not like other pop stars.  He shocks them by including a waltz in their song rather than a rap interlude…
"They were very shocked when I did 'Three Times a Lady,' a waltz in the middle of the funk and they were very shocked when I did 'All Night Long,' disco, so what do we do to shock again?" Richie asked.
Did you have a wild child daughter?  Did she keep you slim?
Comments