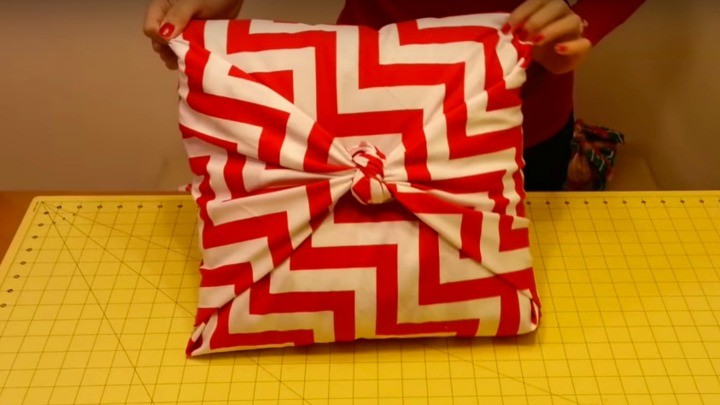 Looking for some craft inspiration for the weekend? Well, look no further than these no-sew cushion covers…
I recently moved house and went from a modern studio apartment to an older three bedroom Queenslander. I absolutely love my new home but I don't think my modern, bright and patterned cushions suit the classic style.
I was telling my mum I had found some white covers that I was going to purchase, but at $30.00 each I wasn't sure I could justify the price. Then she told me that her friend had showed her a tutorial on how to make your own cushion covers which required no sewing… just some fabric and folding.
Here is how you do it: 
Take a large piece of fabric and fold one edge in so it is closer to a square shape.
Lay it pattern side down and in a diamond shape.
Place your cushion on the top corner closest to you so that the edge of the cushion makes a triangle shape from the fabric.
Roll the cushion once so that it ends up in the centre of the square and straighten the fabric around it, ensuring that the cushion is tightly covered.
Fold the other end of the fabric in half and then fold it onto the cushion so that the edge comes to the centre of the cushion.
Fold in the ends of the fabric as if you are wrapping a gift to make the ends look neater.
Bring both ends to the middle of the cushion and tie a double knot.
Straighten out the fabric and tuck the tails of the bow under each side.
Here is a short video that shows you how to do it. I can't wait to give it a go, I think it will look lovely in burlap or simple off-white fabric.
Will you try it?
Do you have a life hack or tip to share? Submit them here.
Comments