Life lessons from Betty White on her 93rd birthday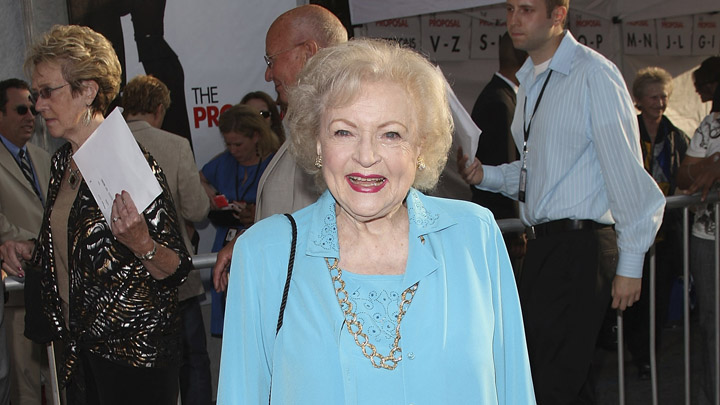 Betty White is the American actress and comedian who just about everyone loves. This week she turned 93 and she doesn't seem to be slowing down at all! She was surprised for her 93rd Birthday with a flashmob – watch it below.
The most incredible thing about Betty White is that although we know her as a hilarious, cheeky and witty woman, and through her humour and ability to make us listen and laugh, she has got so much wisdom to share. Today we're taking a look at four of the most important life lessons we can learn from Betty. To look and live the way she does, it's definitely worth listening to her advice…
1. Age stereotypes don't have to exist
There is a common misconception that one needs to become more sensible, more polite and even a little boring as they age. If you know Betty White then you'll know that is absolute rubbish! Over the last few decades her jokes and social commentary has become more and more hilarious – and naughty. She once told CBS News, "I think the randiness is always done with a sense of humour. I mean, a joke, sure, it can be a naughty joke, but it has to be pretty funny". It's not only her behaviour but her achievements that smash the stereotypes as well. Three years ago she won a Grammy, one of the world's major music awards. It's all about how you look at the situation, if you do what makes you happiest, not what you feel is "appropriate" to do you're living your own life and doing what you want to do.
Ad. Article continues below.
2. Animals deserve our love
Betty White grew up with parents who would bring stray animals home so from a young age she grew up caring for them. Her passion for animals grew over the years so much so that she turned down Shirley Knight's role in As Good as It Gets, because she didn't like the way Verdell the dog was treated in the Oscar-winning movie. She's an animal rights activist and has championed the cause in her many years of fame. She's a big believer in giving a voice to those who don't have one.
3. Friendship matters so work at it over the years
Betty's role in the Golden Girls showed us that friendship takes hard work but she was also a big believer in working at it. She said, "Friendship takes time and energy if it's going to work. You can luck into something great, but it doesn't last if you don't give it proper appreciation. Friendship can be so comfortable, but nurture it – don't take it for granted".
4. Laughter is more valuable than we realise
Ad. Article continues below.
If there's one thing that Betty White has done it is make people laugh. Her ability to make others smile and find happiness in one way or another is a treasure and we shouldn't underestimate our own ability to do the same.
Betty White is a remarkable woman who has done so much in her 93 years and we're sure the fun isn't going to stop here. So remember the valuable lessons Betty White has taught us and try to live your life with a little more Betty.
Do you love Betty White? Do you live with some of the lessons she has shared? Tell us below.