Let's Talk: Is this famous couple's child too old to use a dummy?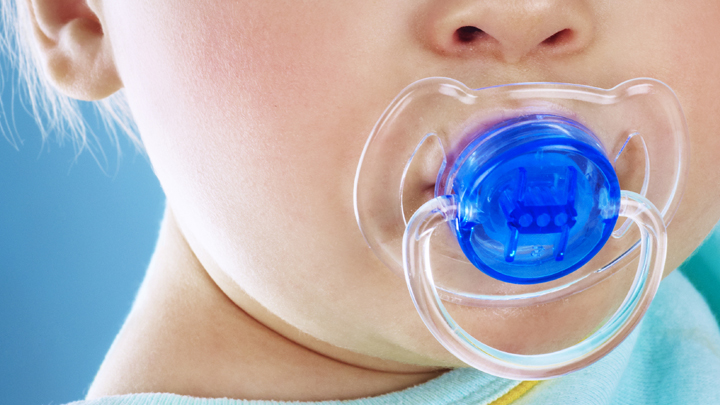 He's one of the world's biggest football stars, and his wife was part of one of the most successful girl bands of all time, but that doesn't exclude them from making some parenting faux pas.
Spotted walking along with his four-year-old daughter, David Beckham looked happy and Harper, carefree. But it was what was in her mouth that has had some parenting experts concerned.
The little girl was sucking on a dummy, calling for discussion on when it is appropriate to get rid of the dummy.
According to the Daily Mail, parenting experts said that David, 40, and Victoria Beckham, 41, risked stunting their daughter's speech and are putting her teeth at risk of damage by letting her continue to use one.
As grandparents and parents ourselves, we're no strangers to the pacifier but how old is too old? Some of us use them to soothe an upset child, or to provide comfort, and the usual length of use is around 12 months.
Ad. Article continues below.
Parenting expert Clare Byam-Cook, a former midwife, said, "I can't believe she is still using a dummy. If she has a dummy in their mouth at this age, at four, it really can damage her teeth and it is very likely to hinder speech development.
You are far less likely to speak if you have a dummy in your mouth than if your mouth is free. Many dentists will agree that dummy use at this age really is not good.
After about three months, most babies should not need a comforter. Children at the age of four really don't need a dummy.
David and Victoria seem wonderful parents and I'm sure they give Harper lots of attention but, like it or not, they are role models and lots of people will see this and think that having a dummy at this age is normal when it is not.
It could be last child syndrome – because she is the youngest David and Victoria could be clinging on to her being a baby.
Ad. Article continues below.
Others haven't been so kind, with some saying it is lazy parenting and the Beckhams need to rid of the dummy once and for all.
Take a look at the pics and tell us, do you think she's too old to suck on a pacifier? What is the right age? When did your grandchildren stop?
I've been interviewed by @DailyMailUK about Harper #Beckham still having a #dummy at 4 pic.twitter.com/Ct5aYZnyUt pic.twitter.com/PdwTRWLLfm

— Sue Atkins (@SueAtkins) August 9, 2015