Let's call today 'Hey Jude Day'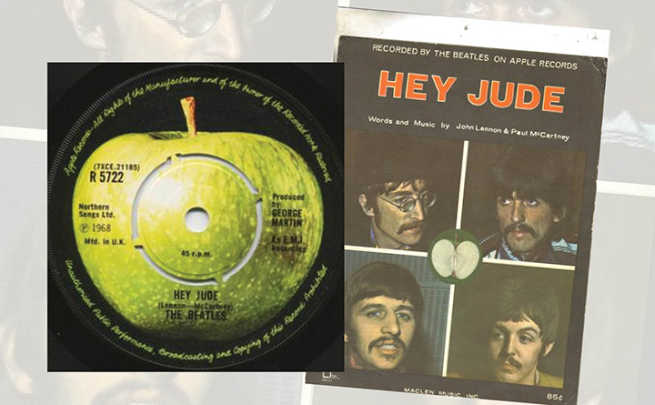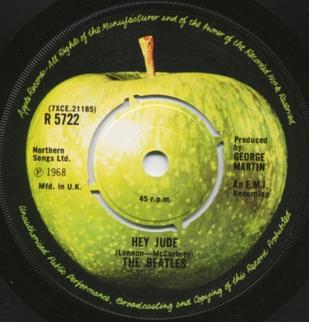 Should we declare it? … That is, should we declare a public holiday to celebrate the recording of the iconic song 'Hey Jude' on this day in 1968, the tenth biggest song of all time according to billboard?  As the first single from The Beatles' Apple Records, it was at the time the longest single ever to top the British charts. It also spent nine weeks at number one in the United States, the longest for any Beatles single. The single has sold approximately eight million copies.  But do you know it's back-story?
Hey Jude is a song written by Paul McCartney and "credited" to Lennon-McCartney.  It evolved as a song McCartney wrote to comfort John Lennon's son, Julian during his parent's divorce.   "Hey Jude" begins with a verse-bridge structure incorporating McCartney's vocal performance and piano accompaniment; further instrumentation is added as the song progresses. After the fourth verse, the song shifts to a fade-out coda that lasts for more than four minutes.
More than seven minutes in length, it was at the time the longest single ever to top the British charts.  
In May 1968, John Lennon and his wife Cynthia separated because of John's affair with Yoko Ono. The following month, Paul McCartney drove out to visit Cynthia and Lennon's son, Julian, at Kenwood, at the family's home.   Cynthia had been part of the Beatles' social circle since before the band's rise to fame in 1963.  McCartney later said he found it "a bit much for them suddenly to be personae non gratae and out of my life".
Cynthia Lennon recalled of McCartney's surprise visit: "I was touched by his obvious concern for our welfare … On the journey down he composed 'Hey Jude' in the car. I will never forget Paul's gesture of care and concern in coming to see us."
Ad. Article continues below.
I started with the idea "Hey Jules," which was Julian, don't make it bad, take a sad song and make it better. Hey, try and deal with this terrible thing. I knew it was not going to be easy for him. I always feel sorry for kids in divorces…
The song's original title was "Hey Jules", and it was intended to comfort Julian Lennon from the stress of his parents' separation. McCartney later said, "I knew it was not going to be easy for him", and that he changed the name to "Jude" "because I thought that sounded a bit better".
According to music journalist Chris Hunt, in the weeks after writing the song, McCartney "test[ed] his latest composition on anyone too polite to refuse. And that meant everyone." On 30 June, after recording the Black Dyke Mills Band's rendition of his instrumental "Thingumybob", in Yorkshire, McCartney stopped at a village in Bedfordshire and performed "Hey Jude" at a local pub.
Having earmarked the song for release as a single, the Beatles recorded "Hey Jude" during the sessions for their self-titled double album, commonly known as "the White Album". The sessions were marked by an element of discord within the group for the first time, partly as a result of Ono's constant presence at Lennon's side.  The album recording was done from the 28th July to the 2nd August 1968.
Ad. Article continues below.
Julian Lennon discovered that "Hey Jude" had been written for him almost twenty years after McCartney composed the song. He recalled of his and McCartney's relationship: "Paul and I used to hang about quite a bit – more than Dad and I did. We had a great friendship going and there seems to be far more pictures of me and Paul playing together at that age than there are pictures of me and my dad." In 1996, Julian paid £25,000 for the recording notes to "Hey Jude" at an auction. He spent a further £35,000 at the auction, buying John Lennon memorabilia. John Cousins, Julian Lennon's manager, stated at the time: "He has a few photographs of his father, but not very much else. He is collecting for personal reasons; these are family heirlooms if you like."
In recording, apparently McCartney was so passionate that he drove conflict to achieve his impassioned result.
During the rehearsals that day, Harrison and McCartney had a heated disagreement over the lead guitar part for the song said Womack in his book about the period.  Harrison's idea was to play a guitar phrase as a response to each line of the vocal, which did not fit with McCartney's conception of the song's arrangement, and he vetoed it.   
In a 1994 interview, McCartney said, "looking back on it, I think, Okay. Well, it was bossy, but it was ballsy of me, because I could have bowed to the pressure." Ron Richards, a record producer who worked for Martin at both Parlophone and AIR Studios, said McCartney was "oblivious to anyone else's feelings in the studio", and that he was driven to making the best possible record, at almost any cost.
Ad. Article continues below.
When did you get your first copy of Hey Jude?