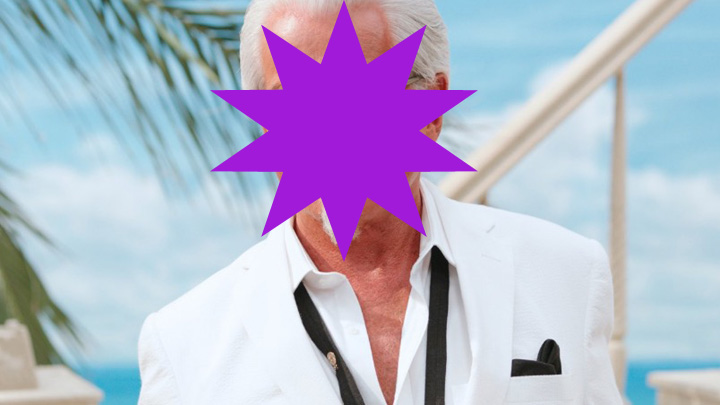 KFC has always been known for pushing the boundaries – over the years there's been controversy after controversy, followed by a barrage of new menu items and changes to in-store designs. They always want to keep it fresh, and their new ads in the US exhibit that perfectly… through the use of what you could describe as a sexy Colonel Sanders.
Hollywood actor George Hamilton has been enlisted as the latest incarnation of the late Colonel in a series of new ads to promote their Extra Crispy Chicken. George joins a list of other celebrities who have lended their likeness to the cause of good ol' finger lickin' chicken: Norm Macdonald, Darrell Hammond and Jim Gaffigan.
The older generation will know the perennially golden George Hamilton from roles in the Godfather III and Zorro, but what young audiences mightn't catch on to is that his appearance in these ads makes light of his very bronzed that he's sported for decades.
Kevin Hochman, KFC's chief marketing officer, told the Inquisitr that George Hamilton was chosen for the new commercials to let people know that the restaurant has the "extra crispy" as second choice, but admitted younger people won't understand is that Hollywood has teased Hamilton because of his very dark tanned skin for ages. "Extra Crispy Chicken is fried to a golden brown. George Hamilton isn't fried to a golden brown, but he is tanned to a golden brown," says Hochman.
In recent years, KFC has brought back the iconic Colonel that made the brand what it is today. Mr Hochman said, "We were thinking about, 'What's our North Star?' And our North Star is the Colonel, and doing things the hard way… When we're at our best, the Colonel is at the center of everything. When he passed, we started losing our way a little bit."
But Hamilton won't be the last recognisable Colonel Sanders – Hockman says that there will be more to come, but won't reveal who'll they be, as that would "ruin the surprise."
"We thought George Hamilton was very unexpected, and we've got to make sure that we keep it fresh and unexpected, and still stay relevant—that's the one thing for sure that we're going to do … As long as we stay unexpected, all things are in-game".
With his unbuttoned shirt which is usually cleanly pressed with a bowtie, George Hamilton is trying to use sex appeal…
Take a look at the ad and tell us, does this make you want chicken or turn you right off?
KFC's Extra Crispy cannot put a tan on your face, but it can put a smile in your belly, says a very bronzed George Hamilton, with tongue firmly in cheek.
Comments