Joan Baez receives historic honour for human rights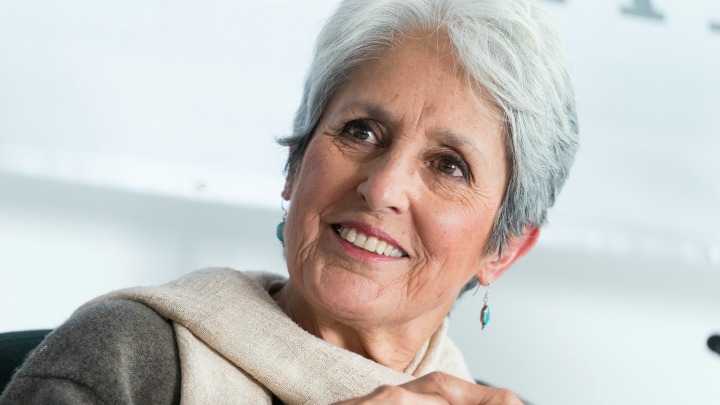 Joan Baez has spent her whole life fighting: she has fought against prejudice, against violence, against the Vietnam war and, throughout all these battles, for people without a voice. And this week, the iconic folk singer was bestowed the highest honour for her tireless fight.
In a ceremony in Berlin, Joan Baez was awarded the 2015 Amnesty International Ambassador of Conscience Award, which recognises those who have shown exceptional leadership in the fight for human rights, through their life and work.
Ms Baez is the first entertainer to be given the award, which she shares with Chinese artist Ai Weiwei. Previous winners include Nelson Mandela and Malala Yousafza, a young Pakistani activist and youngest ever winner of the Nobel Peace Prize.
One of the speakers at the award ceremony was friend and rock legend Patti Smith, who said Ms Baez never assumed to lead but "led by example". Introducing the award, Ms Smith said, "If the 16th century had Joan of Arc, we have Joan Baez".
She described Ms Baez's "solitary fierceness" as "a vehicle for social protest, a comfort and a ray of hope for people".
Ad. Article continues below.
Joan Baez first joined Amnesty International in 1971. "We started with small groups of people in their homes writing postcards and sending them to dictatorship jails and finding out it actually worked," she said in a press conference. "The jailers got so fed up with these mountains of letters they took someone out of torture or prison".
This was far from being the 74-year-old singer's first political stand. She committed her first act of civil disobedience at age 17, and was heavily involved in the American Civil Rights Movement, performing We Shall Overcome at rallies, including the game-changing March on Washington in 1963 in which Martin Luther King told the world "I have a dream".
From the mid-60s to early 70s, Ms Baez promoted peace and non-violent protest as the antidote to the Vietnam War. Since then she has written songs, met with policy makers and travelled the world in the name of human rights. When she received her award in Berlin, she had a special message to people around the world who might want to contribute to the struggle for human rights: "Everyone has a constituency. Even if that constituency is just one… You have to find people to work with you on whatever your passion is. Don't tolerate injustice".
Ad. Article continues below.
She also called on other artists to rise to the challenges of their convictions: "To artists who are afraid, have courage," said Baez. "Courage isn't something easy; no serious social change can take place without a willingness to take a risk. Write a song, sing a song or object; go where your heart takes you".
Ms Baez joined all the performers from the ceremony on stage at the end of the night, including Patti Smith. You can see clips of Patti Smith's introduction, Joan Baez's speech and the performance in the video below:
Joan Baez once said, "If people have to put labels on me, I'd prefer the first label to be human being, the second label to be pacifist, and the third to be folk singer".
Isn't she amazing? What legacy would you like to leave and have you started working on it?