Jeff Kennett: "I'm not a politician, I'm a pensioner" but...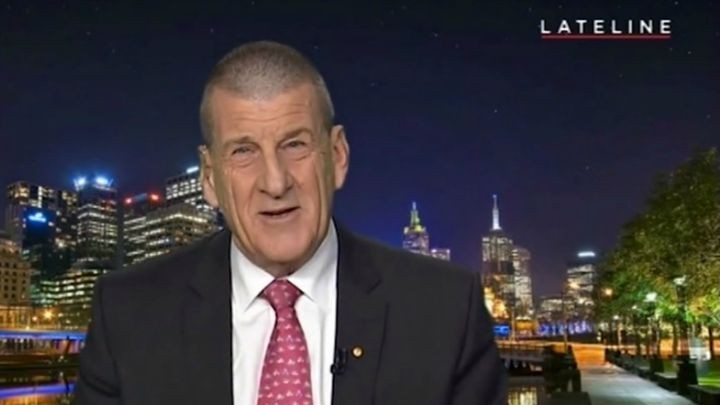 Jeff Kennett may have retired from politics but he's always happy to have a "constructive discussion" about how the country should be run. Invited on Lateline last night to discuss the proposed increases to the GST and Medicare levy, Mr Kennett made his position clear: "I'm not a politician, I'm a pensioner".
During the interview, Mr Kennett refused to be drawn on Bill Shorten's about-turn on asylum seeker boats or Bronwyn Bishop's expenses, saying "I'd rather have a constructive discussion rather than a political one, if you don't mind."
Mr Kennett spoke eloquently and passionately about tax reform and how he believes a massive overhaul with an eye on the long-term is required to bring Australia's economy under control. When it came to the crunch, though, Mr Kennett did have something to say about the state of politics today…
"What we need to have is parliaments that work. What we need to have is politicians on both sides who actually can explain to you and me and our viewers where they want to take us by 2050.
"If I can give you one example. A White Paper came down the other day which I think materially could have been very important and that is the Agricultural Development White Paper for the north. Do you know what? There wasn't a simple statement in the White Paper about what the objective was. My objective might have been, 'I want Australian agriculture and processing manufacturing to be able to feed a billion people by 2050'. In other words, we're part of the sector of world where there are four billion people, China, Japan, Indonesia are all net importers of food. We have an agricultural White Paper that's not a clear KPI. There is no vision.
Ad. Article continues below.
"But that's where Australia has been now for 10 years. We have been leaderless."
When summing up, Mr Kennett reiterated: "Australia needs right now politicians – leaders – who are flexible, who have the courage to put their country and their State ahead of any other interest."
In other words, Mr Kennett says the problem with politics today is… it's just too political.
Do you agree with Jeff Kennett? Is this the biggest problem with politics in this country?