Is it up to grandparents to teach kids kindness?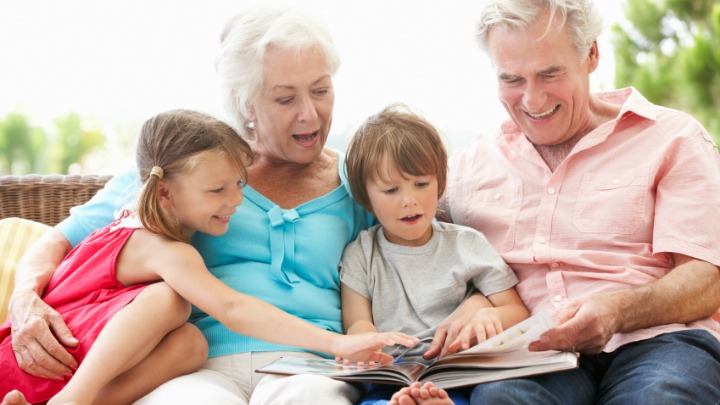 Have you noticed that values such as kindness, responsibility and empathy are lacking in younger generations? Harvard University researchers did, and decided to do something about it. The result is the Making Caring Common project, which both studies the values of kindness and caring in young people, and promotes them.
At first glance, the research is quite grim. When 10,000 students were to asked to rank achievement, happiness and caring for others in order of importance, 80 per cent chose achieving at a high level or personal happiness as their top priority.
They also ranked fairness low in relation to several other values, including hard work. The study authors say, "Some youth made it quite clear to us that their self-interest is paramount: 'If you are not happy, life is nothing. After that, you want to do well. And after that, expend any excess energy on others'."
Happiness, working hard and achievement are all very important values that deserve attention, but the Harvard researchers say putting personal success above caring and fairness creates a culture where children are more at risk of harmful behaviour, including cruelty, bullying, cheating and disrespect for others.
"Any healthy civil society also depends on adults who are committed to their communities and who, at pivotal times, will put the common good before their own. We don't seem to be preparing large numbers of youth to create this society," say the report authors.
Ad. Article continues below.
The report doesn't go so far as to blame parents for raising a generation of narcissists, but it does discuss parents' roles in modelling values, and what it calls the "rhetoric/reality gap", whereby parents overwhelmingly say their top priority is raising caring kids, but their behaviour suggests otherwise.
Around 80 per cent of the children surveyed said their parents and teachers were more concerned about their achievement and happiness than whether they cared about others.
It could just be that Mum and Dad are too busy or too hindered by worry about their children's future to stop and focus on teaching kindness to their kids.
As grandparents, however, we are in a unique position to nurture values such as kindness and empathy in our grandkids.
Having grown up in a time when kindness wasn't a strong feature of schooling and – in many cases – parenting, we know the impact a kindly older adult can have on a young person's psyche. I know my grandmother's generosity taught me more about Christian values than Sunday School ever did!
Ad. Article continues below.
"Children are not simply born good or bad and we should never give up on them," says the Making Caring Count report, "Learning to be caring and to lead an ethical life is like learning to play an instrument or hone a craft… With guidance from adults and practice, young people can develop the skills and courage to know when and how to intervene in situations when they and others are imperilled. They can become effective 'upstanders' or 'first responders'."
Researchers provide four recommendations for instilling the values of kindness and caring in young people:
Give them plenty of opportunities to practise caring and helpfulness – this could mean pitching in around the house, joining you in volunteer work or helping a friend.
Teach them to "zoom in", which means listening closely and attending to those in their immediate circle; and also to zoom out, taking in the big picture and considering multiple perspectives, for example, that of the new kid in school who doesn't speak much English.
Be a strong role model by demonstrating kind and caring behaviour.
Teach children to manage destructive feelings like anger, shame or envy, which can get in the way of empathy and kindness.
Tell us, do you think caring for others is an overlooked value in today's world? Who taught you kindness as a child? How do you pass this on to the little people in your life?