It's all about how you look at life...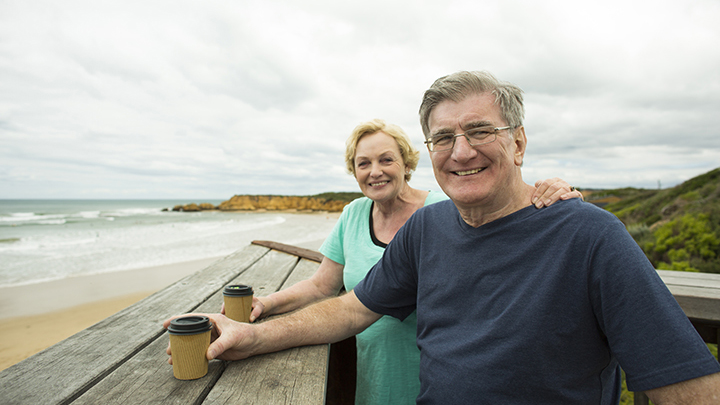 "Some people think that older people slow down and don't do much, but in my experience, older people do more! It is all about how you look at life."
These words were spoken by Starts at 60 community member, Andrew Marshall. Andrew has had an extensive career in retail and when he made the decision to slow down and retire from his long-standing job, he did anything but slow down.
Andrew is the recipient of the September Apia Local Champion Award and today we are sharing his story with the Starts at 60 community.
Ad. Article continues below.
Andrew worked in retail management for over 40 years, the last 28 of those years spent at Pillow Talk in an inner Brisbane suburb. After doing a job he enjoyed for so long, Andrew decided the time had come for him to branch out and achieve what he had always dreamed of doing… Travelling to China, Tibet, Nepal and getting to trek through the Himalayas.
One thing lead to another and the trekking around Tibet was cancelled as a result of Chinese political activity. But, the airfares to China were booked including the return trip home via Katmandhu so Andrew left his lovely wife, Karen at home and adventured out on his own.
Ad. Article continues below.
Andrew walked the Great Wall of China and explored villages before heading to Katmandu and trekking through the Himalayas. He was travelling at an off-peak tourism period, and there weren't too many other people travelling at the same time, but it made his experience so much richer.
Andrew met the local people and formed friendships that are still strong today. He was invited into their homes and witnessed their day-to-day life in a way that most tourists couldn't ever imagine. But it was this that sparked Andrew's passion and gave him a new purpose.
He had been invited into the home of a local to have lunch with his family. As he sat down to eat the food was black and it was completely covered in flies… Hundreds of them. Watching the way these people lived with such little knowledge of hygiene and health practices made Andrew want to help.
He visited a traditional Chinese medicine hospital while he was in Beijing and he realised that his interest in natural medicine could be used to help the people in the local communities in places like Nepal.
So, when Andrew came home he had a discussion with Karen and within a short time he was booked into an Advanced Diploma of Natural Medicine. Andrew was working towards becoming a naturopath so he could eventually help people like the ones he met on his travels.
Ad. Article continues below.
When Starts at 60 spoke to Andrew, he told us that he was nine subjects away from finishing the qualification and had plans to spend three or four months back in Nepal using his newly acquired skills to help those who need it most.
We would like to congratulate Andrew on fulfilling a lifelong dream and thank him for the wonderful contribution he is making to help others. If anyone thinks that slowing down in retirement is something they look forward to, you might be pleasantly surprised. Just take a look at Andrew who is studying, travelling and helping those around him.
If you know someone in your community who is a local champion, nominate them for the October Apia Local Champion Award by filling out the form below. They could win a 16gb iPad all thanks to Apia!