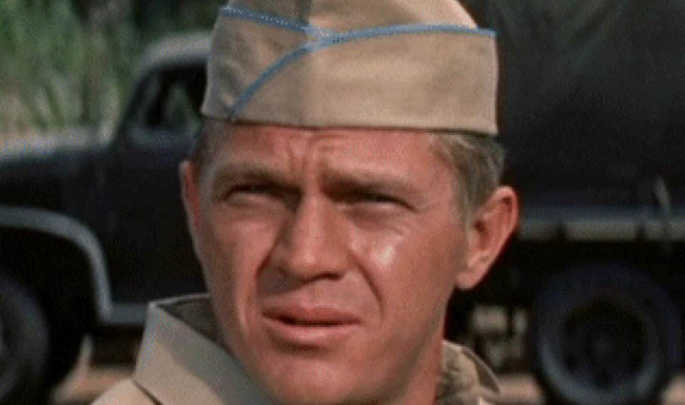 Yesterday marked 35 years since the King of Cool himself, Steve McQueen left this earth, leaving behind droves of heartbroken women.  At one point, the highest paid movie star in the world, McQueen was loved by many and will be remembered by all today.  So we thought it was timely to take a trip down memory lane with Steve McQueen tonight.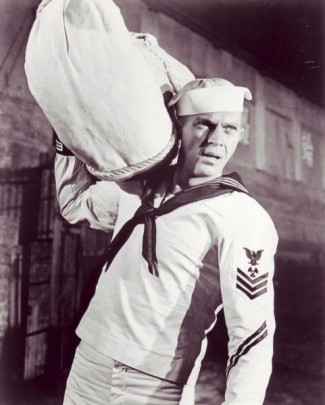 McQueen was a top box-office draw of the 1960s and 1970s and received an Academy Award nomination for The Sand Pebbles.  But more memorable in his life was the popular films like The Cincinnati Kid, The Thomas Crown Affair, Bullitt, The Getaway, and Papillon.  He was also a memorable member of the all-star ensemble films The Magnificent Seven, The Great Escape, and The Towering Inferno.
There is some wonderful stories and pictures about his career, which we will share below.
McQueen died in 1980 of mesothelioma, a cancer believed to be caused through asbestos exposure.  He was just 50 years old. McQueen believed that asbestos used in movie sound stage insulation and race-drivers' protective suits and helmets could have been involved, but he thought it more likely that his illness was a direct result of massive exposure while removing asbestos lagging from pipes aboard a troop ship while in the Marines.
His breakout in his career started properly in the 1960s.  At 29, McQueen got a significant break when Frank Sinatra removed Sammy Davis, Jr., from the film Never So Few after Davis supposedly made some mildly negative remarks about Sinatra in a radio interview, and Davis' role went to McQueen. Sinatra saw something special in McQueen and ensured that the young actor got plenty of closeups.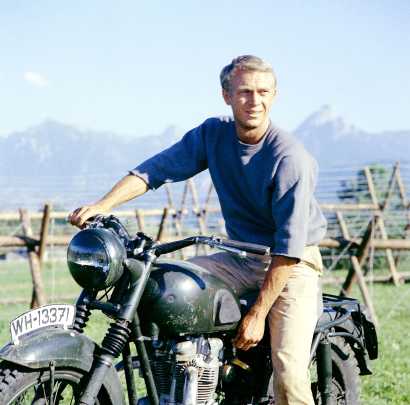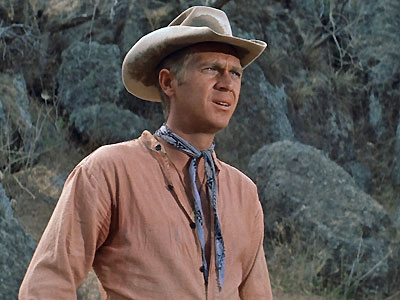 Next was The Magnificent Seven (1960), in which he played Vin Tanner and co-starred with Yul Brynner, Robert Vaughn, Charles Bronson and James Coburn, became McQueen's first major hit.
McQueen played the lead in the next big Sturges film, 1963's The Great Escape, Hollywood's fictional depiction of the true story of a historical mass escape from a World War II POW camp, Stalag Luft III.
After starring in 1965's The Cincinnati Kid as a poker player, McQueen earned his only Academy Award nomination in 1966 for his role as an engine-room sailor in The Sand Pebbles, in which he stars opposite Candice Bergen and Richard Attenborough.
He followed his Oscar nomination with 1968's Bullitt, one of his best-known films, which co-starred Jacqueline Bisset, Robert Vaughn, and Don Gordon. It featured an unprecedented (and endlessly imitated) auto chase through San Francisco.
For the next film, McQueen went for a change of image, playing a debonair role as a wealthy executive in The Thomas Crown Affair with Faye Dunaway in 1968.
In 1971, McQueen starred in the poorly received auto-racing drama Le Mans. Then came Junior Bonner in 1972, a story of an aging rodeo rider. He worked for director Sam Peckinpah again with the leading role in The Getaway, where he met future wife Ali MacGraw. He followed this with a physically demanding role as a Devil's Island prisoner in 1973's Papillon, featuring Dustin Hoffman as his character's tragic sidekick.
By the time of The Getaway, McQueen was the world's highest-paid actor,[25] but after 1974's The Towering Inferno, co-starring with his long-time professional rival Paul Newman and reuniting him with Dunaway, became a tremendous box-office success, McQueen all but disappeared from the public eye.
How do you remember Steve McQueen?  Were you a big fan? 
Comments