It's 2014 and the customer is always wrong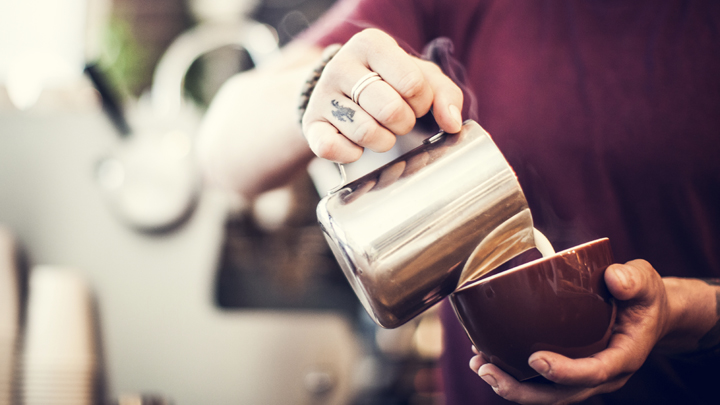 As I was scrolling through my newsfeed yesterday, I came across a Facebook post that some of my friends had liked. It was posted by a cafe in my hometown of Redcliffe QLD, and was a screenshot of a customer complaint. Now, this is not the first post of its type – in fact there have been many cafes and restaurants involved in viral posts on social media this year – but it was the first post I had seen that was in reference to a place I had actually visited.
The owner/operator of the cafe was clearly feeling stressed and annoyed after a busy Sunday running his independent cafe. He'd had a run in with a customer that day and wanted to vent his frustrations about what looks to be a Facebook inbox message. You can see this message below: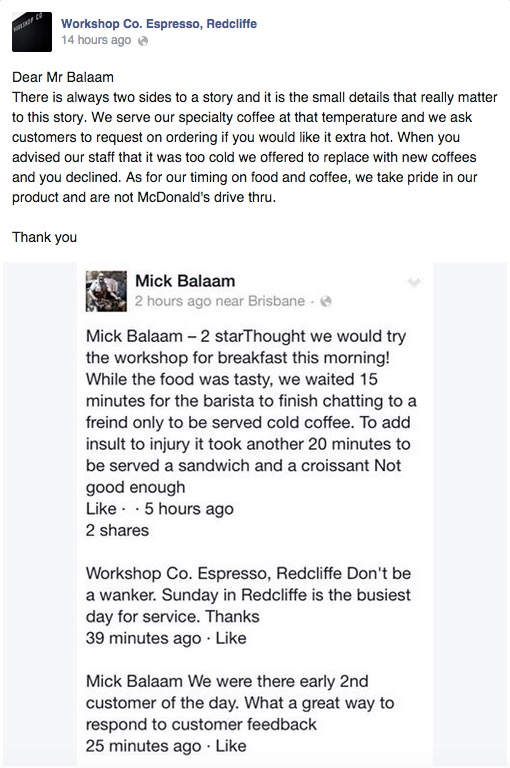 It's up to you to decide whether or not this is appropriate behaviour, but in my opinion I think it could have been dealt with a lot more professionally, i.e. not calling a customer a wanker. Common sense tells you that you should just thank them for the feedback and move along, but that was not the case.
The owner eventually addressed some concerns by saying that there was more to the story: "This gentleman was very rude to two of our young female staff members…His version was exaggerated and missing details. We take pride in the quality of our product and service. And didn't appreciate his negative comments on our social media pages. We were simply trying to show that this behaviour is not tolerated. The choice of words may not have been politically correct although it was accurate as to how he was behaving". Despite posting the exchange boastfully on their own Facebook page, the owner Vince claimed he did not mean for it to have gotten so out of hand. A picture of a coffee with a penis in the crema further added insult to injury and no doubt made the customer humiliated as his full name was mentioned several times throughout the post. Regardless if he treated staff poorly himself, two wrongs don't make a right. 
Ad. Article continues below.
This post and the many we see on social media seem to be breeding a new trend of "the customer is always wrong". How often have you been to a store, restaurant or cafe and felt like you were a second class citizen? As if you had rudely interrupted the clerk from picking their nails or using their phone? It is only happening more and more frequently and rude owners are only making their staff follow their lead.
What happened to the days when you received service with a smile? Where the person who served you was happy to help you with anything you needed? Now they just roll their eyes – you're lucky to get a 'how are you?' or even a smile. I remember serving customers at a busy cafe when I was younger and I was almost too nice! We wouldn't have got away with anything less, but now it feels like if you make a fair complaint about bad service that you will be thrown to the dogs.
It makes you wonder how this cafe above can call a customer a wanker at a time when we see cafes closing left, right and centre. Local businesses are typically doing it tough, so one does have to wonder how this unprofessional dealing will affect business over the holiday period.
What do you think about this cafe's response, and customer service in general nowadays? Is it on the decline or is this an isolated incident? Tell us your thoughts below.