Is this the turning point for marriage equality?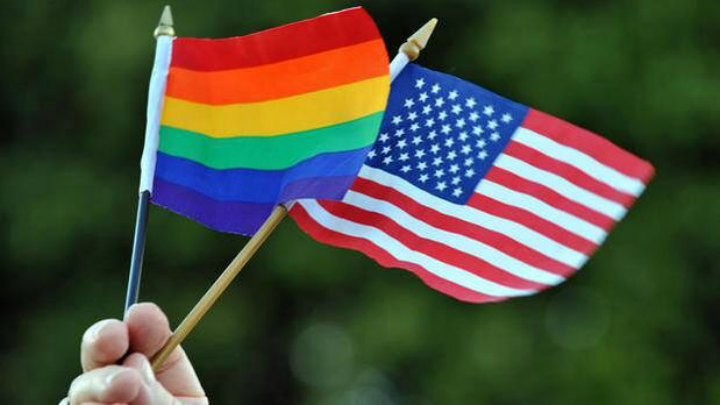 President Obama is calling it a "victory for America", describing the moment gay marriage became law across all of the US as a "justice that arrives like a thunderbolt".
Yesterday the US Supreme Court ordered all 50 states of  America to recognise gay marriage, a landmark ruling that is sure to have repercussions all around the world.
Let's be clear on one thing, though: it wasn't a landslide victory –the Supreme Court vote was 5-4.
Regardless of this, the fact remains that the Fourteenth Amendment to the US Constitution now guarantees gays and lesbians have the same right to marry as heterosexuals.
'This morning the Supreme Court recognised that the Constitution guarantees marriage equality. In doing so, they've reaffirmed that all Americans are entitled to the equal protection of the law, that all people should be treated equally regardless of who they are or who they love," said President Obama.
Ad. Article continues below.
Older gay couples in the US received the news with shock, and a hint of disbelief. Seventy-five-year-old Bert Kubli who is married legally to 71-year-old husband Mark McElreath in Washington, told Time magazine, I assumed it might not happen."
Meanwhile, 68-year-old Cindy Attwood from Vermont was in shock: "This is what equality feels like."
The US has been bitterly divided over the issue of gay marriage and yesterday's ruling is only half the battle won.
'The Supreme Court has spoken with a very divided voice on something only the Supreme Being can do – redefine marriage,' said Mike Huckabee, a former Arkansas governor and Baptist preacher who is running for President.
"I will not acquiesce to an imperial court any more than our Founders acquiesced to an imperial British monarch. We must resist and reject judicial tyranny, not retreat."
Ad. Article continues below.
Chief Justice John Roberts, who dissented from the 5-4 majority said, "Many good and decent people oppose same-sex marriage as a tenet of faith, and their freedom to exercise religion is – unlike the right imagined by the majority – actually spelled out in the Constitution."
AUSTRALIA! The world is WATCHING! Get on board. Legalize gay marriage Don't fight it because #LoveWins every time. pic.twitter.com/zqFwIuWZ5b

— Yael Stone (@YaelStone) June 26, 2015
The historic ruling will no doubt give fresh impetus to the campaign to legalise gay marriage here in Australia, which became a hot topic in light of Ireland's landslide referendum last month.
Ireland followed several Western European countries, including Britain, France and Spain in allowing gay marriage, which is also legal in South Africa, Brazil and Canada.
Tell us, do you think the US Supreme Court's ruling will change attitudes – and possibly laws – here in Australia?