Is this the next Thermomix?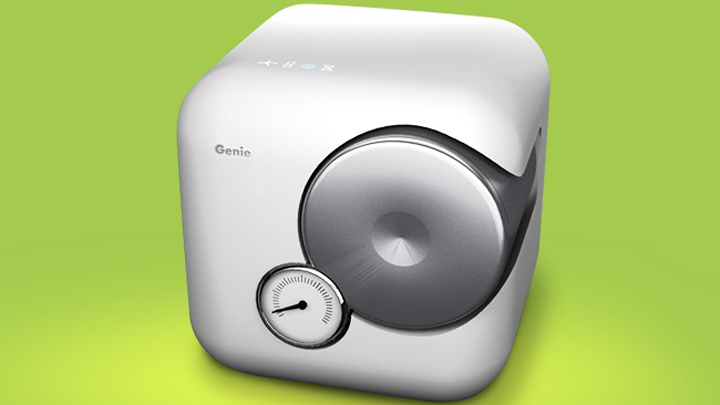 Thermomixs are well known for their amazing capabilities, but recently, they've been more well known for their lack of consumer transparency. Luckily, there are more and more alternatives coming onto the market, including this incredible invention: The Genie.
It's been called a revolution in food technology – it can prepare meals in less than a minute. Imagine that: no more slaving away in the kitchen, you're next meal could be created in a jiffy.
The Genie, the size and shape of a coffee maker, is a new machine developed by entrepreneurs Ayelet Carasso and Doron Marcom, and it uses a mobile app to operate. Amazingly, the small machine can produce an unlimited variety of meals, and just like we make our coffee, these meals are blended together from pods.
Before you gawp at how bizarre that sounds, the pods contain natural dehydrated ingredients, reports Reuters.
The ingredients pods can come with any sort of flavour, spice, grain, powder or liquid you desire, and can make salty and sweet meals.
Ad. Article continues below.
"The dish can be anything, it can be a meal like chicken with rice, like couscous with vegetable or an amazing Ramen or even a chocolate soufflé or any other dessert that you want," co-creator Ms Carasso explains.
"We're using only natural ingredients, we're not using any preservatives or anything that people add to their meals," she told Reuters.
All you need to do is push one button on the mobile app and The Genie gets moving, mixing, shaking and adding any required liquids from tubes attached to the back of the compact machine which bakes or cooks the desired dish at the appropriate temperature.
Freeze-dried ingredients in the pods are all-natural and can last on a shelf between one and two years, making them a sustainable option.
Imagine making a meal out of pod ingredients: this really is the future!
Ad. Article continues below.
Chefs in Israel have taken interest in The Genie and are producing recipes and dreaming up product lines for the machine. People with dietary requirements will also be happy with the finished result: there'll be gluten free and sugar free options.
The idea of The Genie stems from the knowledge of the amount of waste in the world and finding a way to address it.
"In our world, we are getting fat and we are throwing away a lot of food, in their world, they don't have any food. So if you use Genie, you can distribute the food better, you can have the shelf life much longer without the preservatives, give the people better food for them," said co-creator Mr Marco.
We could soon see The Genie in Australia with distributors and sales already underway in Europe, Greece and the United States.
Ad. Article continues below.
The Genie's website says this about the revolutionary appliance:
Get a taste of the all new Genie:

This one of a kind, private chef, is uniquely designed to create tasty, healthy & personalised dishes

Baking has never been faster and easier:

Pick your favourite Genie Smart Baking Pod (see below)
Place it into the Genie
Twiddle your thumbs for 30 seconds and… it's ready!

At the end of the 30 sec baking process, the Genie door will pop open, unleashing the mind blowing aroma of a chef. Inside you'll find your personalised freshly baked dish, exactly the way you pictured it, exploding with your specifically chosen flavour! Bon Appetite.
Tell us, would you use this amazing machine? Is this the future? Or do you prefer traditional cooking?