Is it time to slow down or is slowing down what I should avoid?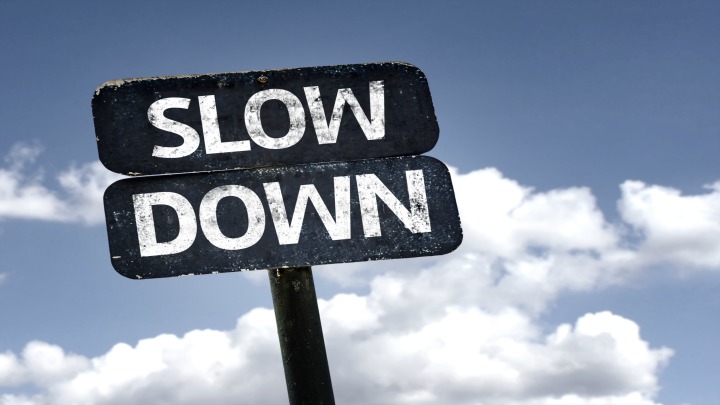 At some point in our lives we've all hit a wall and questioned whether it's time slow down.
If you've lived a crazy busy lifestyle, you'll know what that feels like.
And you'll know the internal battle that wages within – do I slow down or should I avoid slowing down?
I read an article recently that really resonated with me.
It made the point that in this day and age, slowing down is actually a radical concept.
Ad. Article continues below.
Think about how your life has changed since the good old days.
We're living in age where taking a nap is seen as lazy, we lose sleep over deadlines and work pressures, we eat instant, fast foods, get impatient when technology doesn't do things instantly and we've become obsessed with checking our emails and social media out of habit.
Read more: What you can see if you just slow down
What if it didn't have to be like that?
Could you actually slow down without the world crashing down around you?
Ad. Article continues below.
Read more: Which member of the Danish royal family is slowing down?
Think back to the old saying, slow and steady wins the race.
We've all heard it and used it at some time in our lives – I know I have.
But how many of us know what it means or apply it to our lives?
According to the dictionary, it means "if you work slowly but constantly, you will succeed better than if you work fast for a short while and do not continue" .
Ad. Article continues below.
Another blog I read recently pushed home the point that in life some things simply take time.
It argued we should slow down, stop pushing and simply allow things to happen.
For a control freak like myself, that can be hard.
But instead of rushing things, maybe allowing them to happen at their own pace is necessary.
Think about your own development.
Ad. Article continues below.
Could it be that rushing that will take us two steps forward and one step back?
It turns out that sometimes, when we stop pushing, things just happen.
But while slowing down can be good, at what point can it become slow?
If you're feeling lethargic, or like your life is just too slow, don't worry – there's so much you could be filling it with.
When retiring this is a common problem many of us face.
Ad. Article continues below.
After working most of your life, the sudden slow down of retirement can come as a shock to the system.
While the sleeping in, reading a good book and catching up with family and friends can be good to start with, after a while that slow down can bring down.
So what can you do to get yourself out of a slow down?
Read more: How I found comfort and happiness in retirement
I read an article on the Better Health Channel that offered a few suggestions.
Ad. Article continues below.
You could try doing some volunteer work – it's stress free and you can even opt to pick and choose how often you work.
Why not put some energy into your interests and hobbies?
Especially those that you didn't have time to do before.
And for your health, try exercising regularly or joining a gym – take it at your own pace – or join a walking group or team sport to boost your social life at the same time.
Whatever you decide to do, follow your instinct.
Ad. Article continues below.
If you need to slow down, slow down.
If you feel like you've slowed down too much, try adding some low-stress activities back into your life.
Sometimes just making a small change is all you'll need to feel comfortable about your pace of your living.
Have you tried slowing down your life? How did it go?