Is 90 too old to start primary school? Not for this great great grandmother!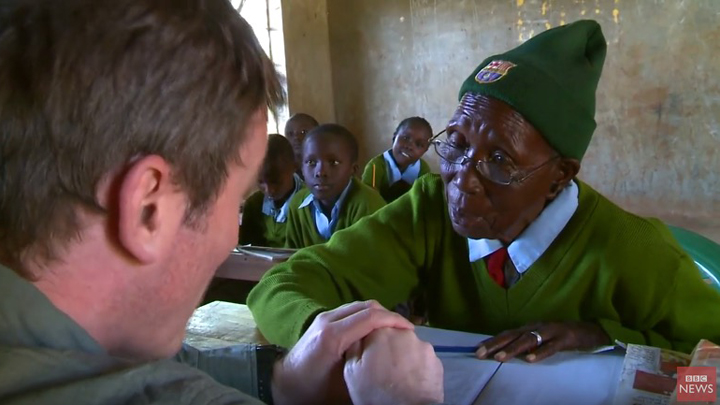 We love the word "hero" don't we?
But can a vegetable be a hero as in, "the Turnip is the hero of that dish"; is a piece of furniture a hero as in "that 3 legged whatnot is the hero of this room". Do you shout at that box in the corner that a vegetable or piece of furniture is not a hero?
There are, however, people in this world who truly embody the meaning of the word and I want to introduce you to someone we can proudly acclaim "hero" – Priscilla Sitienei.
Priscilla is a 90-year-old grandmother from rural Kenya. Sitting in a primitive school room with children aged 11-14, she is not their teacher – she is their peer! At her advanced years, she is learning to read and write.
As reported by Zoe Kelland here, "Affectionately known as 'Gogo', which means grandmother in the local Kalenjin language, Mrs Sitienei never had the chance to go to school as a child – in Kenya, primary education wasn't made universal and free until 2003. However, her lack of formal education never stopped 'Gogo' from serving her community. Priscilla has been a midwife for 65 years, and even delivered some of her classmates as babies! She longs to read and write so that she can pass on her midwifery skills, and knowledge of herbal medicines."
Ad. Article continues below.
Extreme poverty in Kenya means children aren't enrolled in school and even when they are, they frequently don't stay. Poor children are needed to work, on the farm, looking after siblings or even begging in the streets. The cycle of poverty makes it difficult for a child to return to school and when occasionally they do, they are in a class of much younger children.
Pricilla particularly wants to encourage the older child not to feel embarrassed by sitting in a class of "babies". She says "Too many older children are not in school. They even have children themselves," "They tell me they are too old. I tell them, 'Well I am at school and so should you'."
Gogo wears the same uniform as the other children (including her own great-great-grandchildren), and is part of all the school's curriculum, not only the academic subjects such as maths and literature, but also dancing, drama, singing and PE.
"I want to say to the children of the world, especially girls, education will be your wealth. Don't look back and run to your father. With education you can be whatever you want", Priscilla said.
Priscilla, you may be "the world's oldest primary school pupil", but there is so much we can learn from you. You are a worthy role model, a class act, and yes: a hero!
Take a look at her story below: