International Guide Dog Day: There's still discrimination of those who have guide dogs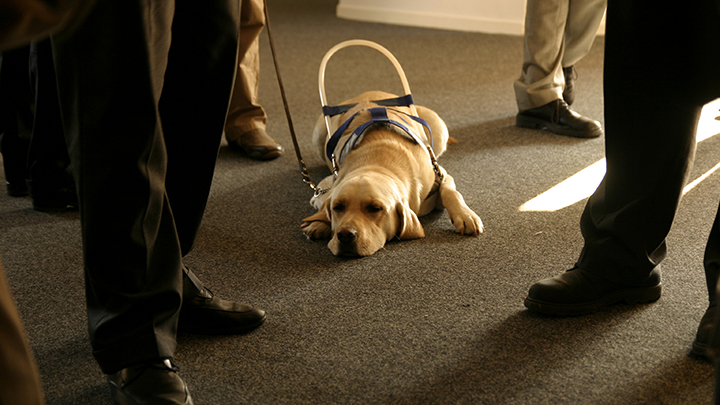 International Guide Dog Day presents the opportunity to recognise the important role that guide dogs play in the lives of vision impaired persons. It reminds us how important it is for the Australian community to embrace Guide Dogs and welcome them into public spaces.
Unfortunately a new study has found that guide dog users suffer from discrimination and are often prevented from entering supermarkets, cafes and even denied rides in taxis. Research into the issue has found that 53 per cent of guide dog users in New South Wales and Australian Capital Territory have been been subject to discrimination in the last year, 40 per cent of these instances occurring in cafes and restaurants. Another survey into the issue has found that 46 per cent of people had been denied rides from taxis on more than one occasion in Victoria. 
This level of discrimination is big issue for the safety and wellbeing of blind and vision impaired persons. Karen Hayes, chief executive officer of Guide Dogs Victoria, stated that the anxiety faced by guide dog users can often cause them to leave the guide dog at home. "While the public generally do the right thing, our survey shows people with Guide Dogs continue to face many barriers when going about their daily lives, which strips them of their independence," said Dr Graeme White, CEO of Guide Dogs NSW/ACT.
According to Australian law, guide dogs are legally permitted to accompany their handler in all areas other than the operating theatre and some areas of zoos. Karen Hayes noted that the main cause of the discrimination is likely a lack or awareness and understanding about the guide dogs. "While most Victorians are generous in providing open access to people accompanied by their Guide Dogs, not everyone is fully aware of their legal obligations," said Ms. Hayes.
Ad. Article continues below.
The aim of International Guide Dog Day is to spread awareness and understanding throughout the Australian community. Some states are taking the campaign a step further in order to empower Guide Dog users. For example NSW Police can now issue on the spot fines of $165 to people and companies who refuse entry to Guide Dog handlers. Queensland authorities have ability to issues fines of up to $55,000 and the ACT has created an awareness video for cafe and restaurant owners.
Have you ever seen a Guide Dog user turned away in a public space?