If you've conquered menopause, call yourself a champion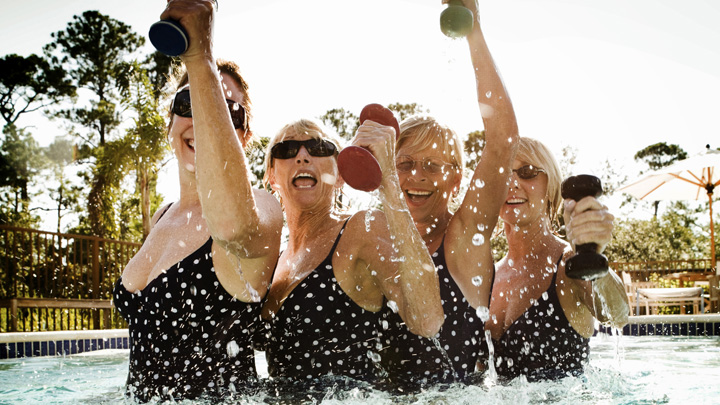 If you have battled through menopause then you'll know just how awful it really is. We sweat, we ache, we are irrational, we cry, we are in pain, we feel exhausted and the worst part is that we have absolutely no control over it. If you've survived "the pause" then give yourself a pat on the back, grab a glass of champagne and start celebrating – because science has finally proven that you've conquered a condition that is seriously debilitating.
Private medical firm, Nuffield Health from the United Kingdom carried out a survey with over 3,000 women about their menopause experience and the results were incredibly eye opening.
Over one quarter of the women had said their symptoms interfere with every day life. One fifth were forced to take time off from work and one in 50 women had to take long-term sick leave due to the symptoms. Half of the women surveyed believe that at some point during menopause they experienced depression and one in three experienced anxiety.
The horrifying conditions are all above and beyond the basic symptoms including fever, night sweats, exhaustion, memory loss, hot flushes and aches and pain. Basically, menopause does everything it can to make life difficult for us and anyone who has survived it should be proud of that achievement, because what the survey also showed is that women have very little support from their GPs and medical professionals.
The survey results showed that one in ten women had sought help from their GP for the symptoms they were experiencing. And a further quarter of these women said that menopause wasn't ever discussed as a cause. Why? Because there is a stigma that menopause isn't real. People think it is an excuse or an overreaction without realise just how serious and debilitating it really is.
Ad. Article continues below.
According to the Daily Mail, Dr Annie Evans, a menopause specialist for Nuffield Health, said that the attitude towards menopause is wrong. "Menopause is a condition which is often sidelined as just a fact of life, and not something to be taken seriously, but for many women the symptoms are extreme and can have a devastating impact… It is an absolute tragedy that large numbers of women are getting no help at all".
The survey indicated that only one fifth of the women who saw their GP were prescribed Hormone Replacement Therapy to ease the symptoms. This is concerning as increasing scientific evidence stands to prove it protects against heart disease and bone thinning. In the early 2000s there was a scare that HRT could possibly lead to breast cancer, but over the last decade this scare has been proven untrue and there is no risk. So where is the support for women living with the every day reality of menopause?
The truth is that menopause isn't something to be taken lightly. It isn't something to joke about, because for many of us, it is something we battle with and have to fight through for years on end before feeling healthy and normal again.
So if you've survived menopause, be proud. Or if you're fighting through it right now, know that you're not alone and that you can ask for help from your GP. Don't be afraid to use the word "menopause" because we need to start a movement where menopause is taken seriously so we can enjoy our life and make the most of every day.
Tell us, what was your experience with menopause? Did you suffer? Was your doctor helpful? Share your thoughts in the comments below and make sure you read Jan's poem below too…