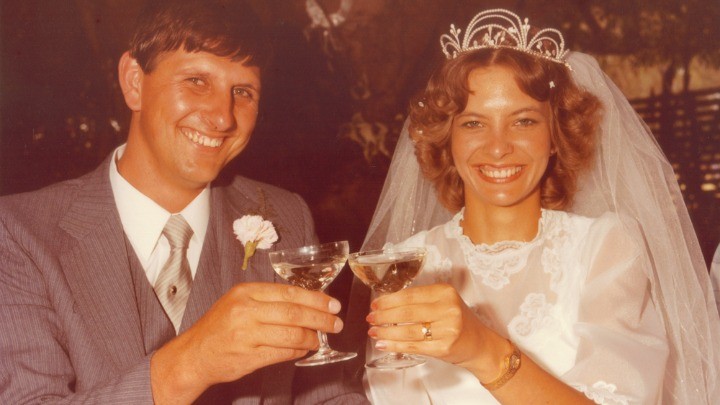 I got married on a warm spring day in Brisbane in 1978. The week leading up to it was manic and a bit of a blur as I rushed around with my sisters and family trying to get everything organised and ready for the day.
My husband-to-be, Peter, who I'm still married to today, was busy working so the planning fell on me and whoever I could rope in to help me.
My mother had always been an opinionated women and she wasn't about to hold back now that my wedding had arrived. She had something to say about every aspect of the wedding and frequently told me she didn't like any of the flowers I had chosen, or the dresses for the bridesmaids, or the dinner menu.
As much as I tried to ignore it, I admit her opinions got to me and filled me with anxiety thinking that all of my guests might feel the same way.
I couldn't sleep the night before, whether it was because of excitement or sheer nerves I can't recall, but I know that I woke up the next day positive I hadn't slept a wink.
My mother and sisters met me at the reception hall to help with the finishing touches – where I heard a few more words from my mum about my decorating choices.
I was so worked up by this point that her harsh words really got to me and I left the hall fighting back tears.
I went back to our family home, sat as still as I could while my auntie applied my makeup and did my hair, and then slipped into my white dress. That dress is still my favourite outfit that I've ever worn and I remember feeling so grownup and mature when I wore it.
Walking down the aisle and seeing Peter at the end of it is really the only clear memory I have of the day.
I spent most of my time running between guests as I tried to make sure I said 'hello' to each of them, and arguing with my mother after she complained directly to the caterers about the food.
If I could go back and relive that day I'd do so much differently. I wouldn't let my mum's words and opinions get to me so much and I would take my time to soak in everything and actually enjoy the day.
Peter and I didn't have much money at the time, but we had spent a few thousand dollars on the day. I wish that I had of taken the time to appreciate everything our hard-earned money had paid for.
Instead of looking nervously around the crowd during our first dance, I would have made sure I looked at Peter instead.
There are so many things I would change about that day, but I guess the important thing to take out of it is that I was lucky enough to marry Peter that day. And despite everything else, I wouldn't change that for the world.
What would you change about your wedding day? Where and when did yo get married?
Comments