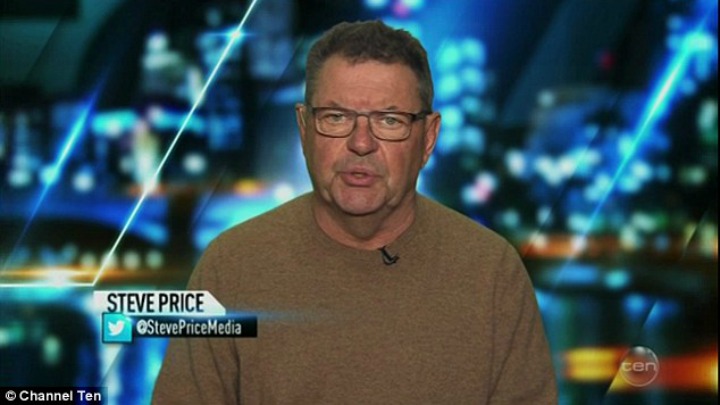 Steve Price is in hot water yet again on another TV show, when he defended his accusation of left-wing columnist Van Badham about being hysterical while on the panel of Q&A.
The Project hosts Waleed Aly and Carrie Bickmore have slammed Steve Price on the show, the day after he demeaned the female columnist while she spoke about domestic violence.
He rejected the opportunity to apologise when speaking with the hosts of Channel 10's The Project, which Price is a regular guest panellist on.  The controversial broadcaster said he would have treated a man exactly the same, despite protest from Aly.
'Using that word to describe me would be different – because for 4,000 years, women were described as "hysterical" as a way of trying to say that they were irrational, incapable of being reasonable because they had ovaries. I mean, "hysteria", the Latin root of it is "womb",' Aly said.
Steve Price has claimed he was "ambushed" by a question about violence against women on the ABC's Q&A on Monday night, which resulted in him defending controversial comments made by Eddie McGuire and branding columnist Van Badham "hysterical".
'I have no background of the word hysteria,' Price said.
'But now that you do, do you think or accept it's the way to respond, particularly when they're speaking about belittling women?' Waleed pressed.
"I will describe things as I see them," Price said. "I accurately described how Van Badham was behaving."
There has been genuine outrage during the Eddie McGuire saga, and this situation has yet again sparked outrage, with many users taking to Twitter to post how they felt about it.
Steve Price is going to be wearing that "hysterical" comment like a ridiculous hat for a long time.

— Eddie Perfect (@Eddieperfect) July 12, 2016
Steve Price proved last night what I have been saying for yrs he is not fit to have voice on radio or anywhere else he is a disgrace

— Geoff Pearson (@GCobber99) July 11, 2016
When people deal with domestic violence, and the media propagates it without realising that it affects so many people emotionally, it's no wonder there has been national outrage surrounding this situation.
How do you feel about Steve Price defending his comments against women by trying to belittle them in the process?
Comments