I want to make sure I make an impression in my grandchildren's lives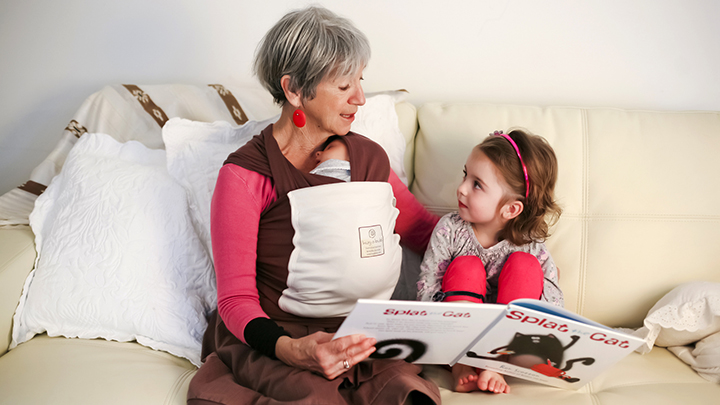 Being a grandparent is such a gift, and the majority of us adore our role, our second coming as parents. I'm a very lucky grandmother – I have two grandchildren. I get to see Leah and Grace often and I know other grandparents can get jealous of me and how close I am to them.
I have a closeness to my granddaughters because I took care of them both from a very young age. Sadly, I'm their only grandparent as my husband died when Kieran was 12, and his partner's parents died three months apart five years ago. So I've taken it upon myself to make sure I leave a lasting impression on my granddaughters – they're all I've got and I'm all they've got, as far as grandparents are concerned! I made this realisation when Leah was about three and a half and Grace was four weeks old…I didn't think I'd be a hands-on Granny. Instead, I thought I'd be more of a holiday Granny and would be able to go off on cruises and enjoy retirement to the maximum.
That was until Leah went into hospital. I was called so I could take care of baby Grace while Kieran and his wife went to be by her side. I didn't know much more than she was exhausted until Kieran rang me crying, saying she had leukaemia. I was floored. I had no idea what that would mean for our little Leah but she was going to be OK, I knew it in my heart. From that day forward, dreams of a beautiful cruise and the open water left my mind. My sole purpose was to be there for my son and my grandchildren. They were my blood and I could not sit idly by.
Ad. Article continues below.
I became a full time nanny (and Granny) for Grace. Once Leah was in remission a year later, I lived in with the family and did everything they needed me to. Now, 15 years on, my darling grandchildren are happier and healthier than ever. Leah has had no signs of cancer since and is a happy 19-year-old. She taught me resilience at times of adversity. She also taught me what a special role grandparents have in their grandchildren's lives. I feel I have those special memories to hold on to that no one can take away from us. My own parents were barely there for my children and I thought that's just how it was. It's not – in the real world, 2015 grandparents are more loving and hands-on than ever.
So what are you waiting for? Talk to your grandchildren and tell them you love them. Become their pen pal. Send them special gifts to know you're thinking of them. Make an impression in their lives.
Tell us below: do you have a special connection with your grandchildren?