I love where I live but it's not for everyone...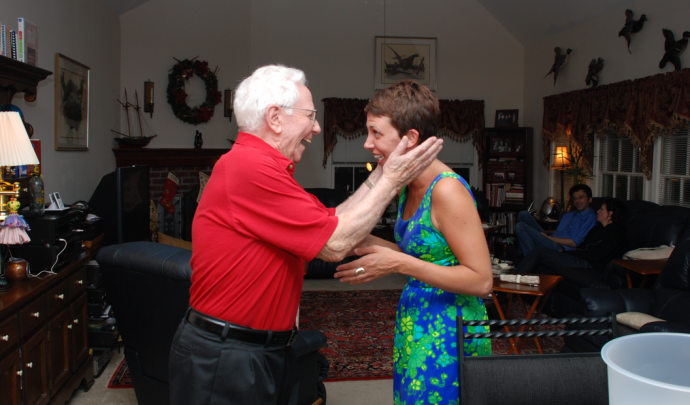 I have a confession to make: It might seem odd to some but surely there's plenty of us out there…no I'm not a crossdresser – I'm a baby boomer who lives with his son. We don't share the same roof (technically) but we are on the same block and I really wouldn't have it any other way.
It all didn't come about easily – my son's wife tragically died in 2010 when she was just 30 from an inoperable brain tumour. Suffice to say we didn't see it coming and Lee was left with his three children and a mortgage. I had been a bit of an absent father – I was in the RAAF for 23 years – and so I relished this opportunity to stick by my only child. I moved in with him and it all snowballed from there. I am 65 now but I'm fit as a fiddle. I love helping out the kids and getting them ready, plus (if I don't mind saying so myself), I am a pretty stellar granddad.
When Lee needs a break from me being like his mother, I can just close my flat door and get away. But if he ever needs me, I am not far away. We have our good times and bad, being father and son, but I couldn't be more proud of the progress he's made. He has a new partner, Louise, but I'm still welcome to stay and she doesn't mind. I've definitely learnt a lot and this isn't a sappy story – this are my recommendations if you want to consider living with your family members…
My situation is very different to my mates who have grandchildren who live miles away…mine live 15m from me. While I love them dearly, having them knock down my door or scream around the backyard is a little bit testing for my patience at times. I have to remind myself that this is what I signed up for and that I'm very blessed…! Lee's mother and I are divorced so if she ever wanted to visit, she'd have to talk to him first while I make a mad dash out the back gate! That's definitely a benefit of living here versus a retirement village or unit! On that note, being all alone somewhere would make me feel a lot older than I am. It makes me feel like I'm in my 30s again when I have a beer with my son and his mates on the deck on a Friday afternoon. And the plus side is if I get a bit too jolly, I can stumble back to my flat, no worries!
Ad. Article continues below.
While there's a lot of perks, my dear friends, I do have to warn you that if you're considering living with your children or family members, prepare for some arguments. I'm not the cheeriest bloke sometimes and for some reason it's always the same time that my son's partner is pottering around near my flat. We get into squabbles (as do I with my son and grandchildren) and there have been times where I've thought I should leave. I know I'm not that disruptive to their lives but one word of warning: try to stay out of their hair as much as possible! It's their home too and I'm extremely lucky that I'm living here at all. It can be perceived as "weird" or even "strange" to have your old man living at your address but it's never seemed to matter to my son (or at least he hasn't told me it has!). I know it's not ideal for everyone – you could have kids who don't want to see you too much or have you invade their privacy, or you mightn't have family that could feasibly accommodate you.
If you're retired like me but didn't have an astronomical super fund, this is a nicer option, I reckon. I get my meals made for me from time to time but most important of all, I can support my son and family. I hope that when I go one day, he will remember these days fondly like I did.
Would you consider living with your family? Or do you already? Tell us your thoughts below.