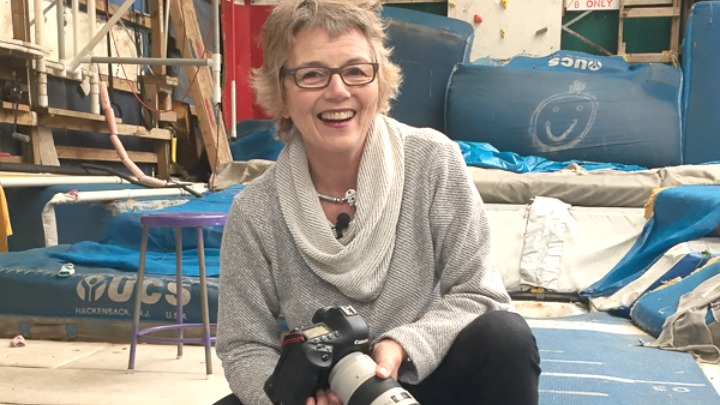 I retired from my academic career at the age of 60 in 2010. Before retirement, I'd been working in the field of visual culture and had become interested in comparing the images of elite female tennis players that dominated our media at the time with images of their top male counterparts. I've been playing tennis competitively all my life so this work brought together two loves of my life: tennis, and the visual imagery associated with popular Western culture.
Then I retired and found myself wondering what sorts of visual images of older tennis players in particular and older sporty people in general were circulating in the media. I did a Google search and found…nothing!
It seemed that once you became older, as far as popular culture was concerned, you didn't exist. There was just nothing out there.
What was out there was a depressing visual narrative of 'the elderly' often showing groups of individuals sitting slumped in chairs around a care home TV. I couldn't find anything much to show older people as being the active, empowered subjects of their lives that I knew so many to be.
I knew there was another story as there were plenty of tennis players I knew still competing in national and international competitions through their 60s, 70s and 80s. And that was when the idea took hold that maybe I could start to fill this gap and take some photos of these older sportsmen and women myself.
Minor detail: I knew nothing about photography! I had a small point-and-shoot camera but as for what an aperture was, well, it was Chinese to me. But I've always loved learning new things and I was excited to think here was a new project opening up for me, one that would involve me learning new skills and meeting new people. Put me at the bottom of a steep learning curve and I'm very happy.
A friend told me about something called the European Masters Games that was going to take place in Italy in September 2011 and I decided that would be my goal – to both compete and photograph the event. I found myself a photography tutor in my home city of Bristol and set myself the target of learning enough to be able to shoot some photos a few months later.
On Day 1 of these masters games, I was waiting at a bus stop in the town of Lignano, for the event shuttle to appear and take me to the registration area. I was flapping in a bewildered way, knowing nothing about how these events were organised. Then two women in their mid-70s, both looking amazing in impossibly tiny denim shorts, and also confusingly alike, joined me.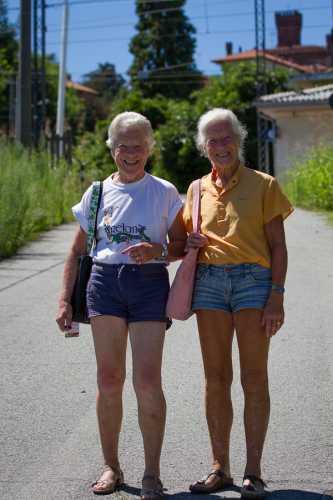 They were speaking English and they thought it was hilarious that I didn't have a clue what I was doing. I'd met 'the Irish twins', Dorothy McLennan and Sheila Champion (above), both legends on the masters athletics circuit and they took me under their wing. An hour later I found myself being pushed into the track-and-field stadium by my new friends and I was hooked.
I should add that, as well as knowing nothing about photography when I started, I also knew nothing about track-and-field athletics. So here was another new world opening up for me.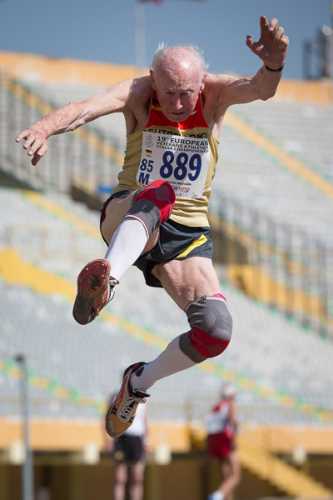 I absolutely take my hat off to the track and field athletes I photograph. All that training, all that build up, it all goes into a race that might only last a few seconds. I have found myself being completely captivated and caught up by the people I'm watching and photographing, and the tremendous physical exploits they put themselves to.
For example, did you know that the world record for men in the 70-74 year old age group for the 100m dash is only three seconds slower than Usain Bolt's? I mean, these aren't just elderly people pootling valiantly round the track. These are elite, world-class athletes thundering from start to finish line and if you're taking photos of them at the finish (like me), you'd better get out of the way quickly, or you'll be flattened as they race over the line.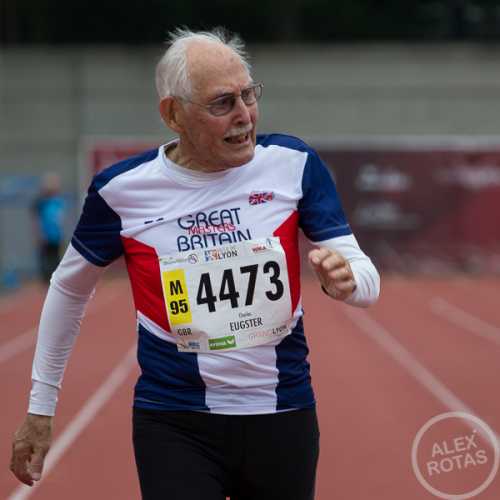 There's a new kid on the block in the UK, Charles Eugster, 96 (above), who took up track and field last year aged 95 and he's already set new British records for the 100m and 200m sprints. But I've learned that these achievements don't just happen. No matter what your age, you have to work and train hard.
I've met several athletes who competed when they were in high school or college and then "took a fifty year break," coming back to the world of competitive track and field in their seventies. I've learned that these elite older athletes don't escape the strokes, heart problems and surgery, cancers, knee and hip replacements that can afflict any older person. They just persevere through them.
A British athlete in her late 70s told me that she came back after her stroke "through sheer bloody-mindedness."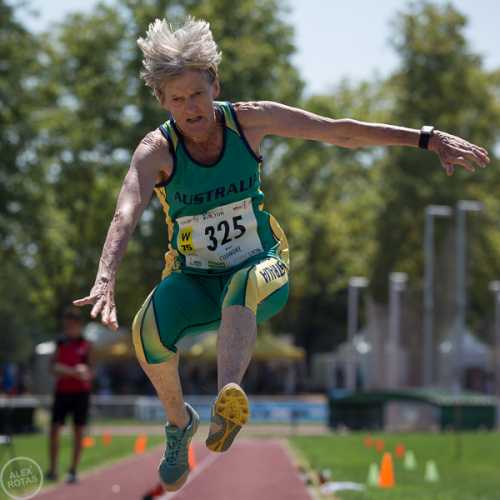 Sheila Champion, one of the Irish twins who introduced me to masters athletics, has endured three strokes and had to learn to walk again. She no longer competes in running or walking events as she used to, but satisfies herself with the throwing events. These people adapt, they compromise, they take stock… But they don't give up.
I've learned that a huge driver that motivates these athletes is not only their competitive urge, but also the friendships and camaraderie that keep them coming back, year in, year out. They meet up with their friends, they compare their muscles (and their wrinkles) and they laugh a lot.
I've also learned that age is absolutely relative. In these competitions, the oldest age group always starts first, and then the next oldest and so on, right down to the 'children' in the youngest masters category of all, the 35-39 year olds. When the 70-74 year olds bounce onto the pitch, I swear, they seemed like puppies to me! They are bursting with energy, frisky – their exuberance and youth are palpable. I have to remind myself, these men are all over 70.
The whole category of 'old' is far from heterogeneous and we really do need some new words to differentiate between the different ages between say 60 and 100.
I tend to think of myself as in the adolescence of old age now I'm in my 60s – or that I'm coming of third-age. Not old yet, but getting there.
Do Alex's photos make you rethink ageing? Tell us about the most inspiring older people you know!
Comments