I don't feel like I have the authentic grandparent experience...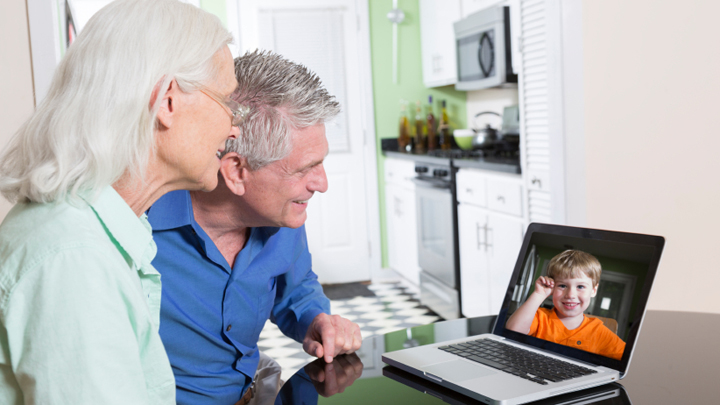 Yesterday I saw a news article about Kim Ledger, the late actor Heath Ledger's father. He was talking about his son and his non-profit foundation, and it was all very touching. But one thing that really struck home for me were the comments about his granddaughter, little Matilda.
Ad. Article continues below.
Matilda is 9 years old and is the only grandchild of Kim and his wife Sally. He said he speaks to her on Skype a little bit and visits her when he can, and that just made me feel so sad. Not only because this man and his wife cannot see their beloved granddaughter, but because I too have grandchildren that live so far away.
The son lives with his wife Marcella and my two grandchildren in Madrid, his wife's home city. It's a beautiful city but if you look on a map…Spain is about the furtherest place away from Australia. My heart aches when I speak to them on Skype, and I've only had a chance to see little Sam and Anna twice so sometimes I wonder if they even know who I am.
I wonder if there are other grandparents out there who have very rare contact with their grandchildren like me. I feel like I am missing a part of my heart not having them here and I know that's selfish but I get sad when I see those grandparents at the shops with their little grandies.
Sure, Spain is an excuse to go on a holiday but I've recently had hip surgery and don't feel up to travelling for at least another few months. I've had to come to terms with the fact that I'll never be a hands-on grandparent, and I certainly won't be close to Sam and Anna. They'll grow up and know I exist but not have those happy memories I had of my own grandparents. Their maternal grandfather is still alive but sadly, their grandmother died when Marcella was born. They love their Abuelo and send me many photos of them all together.
Do you have a similar situation? How do you keep in contact so you can feel like a part of your grandchildren's lives? I'd love to know.