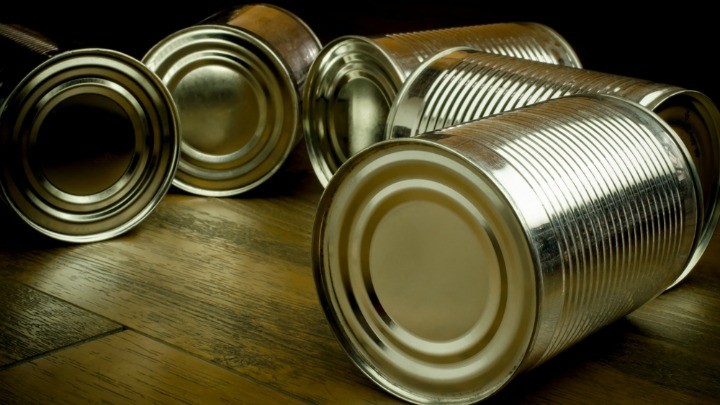 A lot of food that we consume comes packaged in convenient tin cans. Once we are finished with the contents we tend to dispose of these cans without a second thought, however they can be useful for so many things!
Here is a list of some interesting ways to re-use your tin cans:
Succulents have become the plant of the season and you can't go far without seeing them for sale at markets or in florists. The best part is they are so easy to take care of – all they need is a little spray of water and some sunshine. To make your own succulent plater from a tin can just paint it nice and colourful, fill it with soil and add a succulent.
Kitchen utensil holder (wrap it in twine or paint it)
400g tin cans are the perfect size to hold your spatulas, ladles and wooden spoons. You can peel the wrapper off and leave it shiny and silver or you could wrap it in twine or paint it a colour to suit the rest of your kitchen and you have yourself a handy kitchen organiser.
Closet organiser (scarfs etc)
Another great organisational use is for your cans. You can place them in your top draw and use them to house your scarfs or even organise your socks into them, if you find you are always losing one of the pair.
Now this is a great idea! Take all the empty tin cans you have, remove the bottom and stack them on top of each other, securing them with super glue. Place bottles of wine into each tin and you voila you have a wine rack holder!
Smaller cans, like tuna or salmon tins work best for this. All you will need is some ploy-fill, a piece of small fabric and some glue. Wrap the poly-fill in the material and gather the corners to make a small ball. Place some hot glue at the bottom of the can and stick the material ball in. Now you have the perfect pin cushion that will sit on a bench easily and not roll over.
Craft supplies organiser (wrap it in twine or paint it)
Along the same line as the kitchen utensil holder you can use the tin can to store your scissors, tape, pencils and any other craft supplies or stationary you have. Peel the wrapper and leave it silver or give it a coat of paint.
If you love to knit and get frustrated by your wool unravelling or getting tangled, the tin can may be the answer you are looking for. Turn it on its side and it is the perfect size house your wool. If you want to get serious about this one you can try glueing or drilling the cans to a piece of painted wood and hanging it on the wall.
Biscuit cutter, how did we not think of this earlier? The perfectly round opening of the tin can is just what you need to cut through dough and make round cookies or biscuits. You don't have to do anything for this, just flip the can over to the open end and press hard against the dough, lift it up and you will have a round piece of dough just waiting to be baked.
Will you try any of these? Do you have your own way of reusing a tin can?
Comments