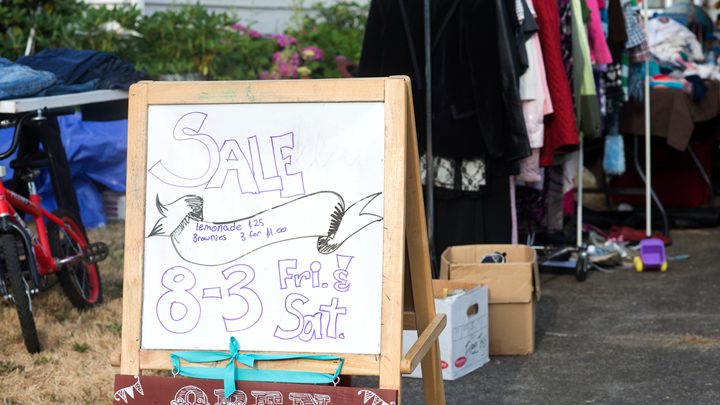 So, you've got a bunch of stuff you want to sell, but how can you go about it? The first thing that might pop to your mind is a garage sale. Do people do them any more? Yes, they do, and they are actually more successful and easy to organise than they used to be.
It's all about being prepared and making sure you promote it properly. It won't take much extra effort but you could get a lot more people browsing!
Here's the best tips we've found for organising your next garage sale and making a profit.
First thing's first: decide what to sell
This isn't always easy as you may have a shed full of stuff but only some of it is OK for resale. Try to sell things in decent condition, and be honest about the things that aren't. You could have a junk pile that some handy people may want to rifle through, but don't put it too close to the entry.
1. Pick a date and time
Make sure that the date will not conflict with holidays or other events – it's a no brainer that it will need to be on a weekend.
Saturday is usually the best day since many people spend Sunday relaxing and spending time with the family. The sale should start in the morning around 7-8am and run for 4-5 hours. Some people may even be at your house before the sale time!
2. Advertise
This is the key part, and is a lot easier than you may remember garage sales being years ago. You can advertise both online and in newspapers. In your ad, be sure to include your full address, time the sale starts, the date (don't write "today") and any important items such as art works, books, a big clock, a nice couch etc.
Put posters anywhere you can such as in community centres, local shops, and in the news paper.
When advertising online, you can do it a number of ways. Post on Gumtree, mention it to your friends on Facebook, talk about it on Twitter.
Don't forget to mention snacks, water, a BBQ or anything else that would get additional people to the sale.
Put the signs up the night before OR the morning of the sale. Any longer than that and they tend to get torn down or ruined by rain or wind. Be sure to put the signs up in your surrounding neighbourhood.
Remember – take your signs down after the sale!
Note: Check with your local council or homeowner's association to see if there are restrictions on Garage Sale signs. They may only let you advertise outside your house.
3. Pricing
A good rule of thumb for garage sale pricing is to keep most things under $5, and have smaller items that sell for $1 or $2. This may seem like a small amount of money, but by the end of the sale, it can add up to quite a bit! In general, nothing should be more than $50.
Group items by price – divide the tables into areas for different price ranges and put a sign up letting people know what that range is. Under $2 is a good pricing range, then $2-5, $5-10 and over $10 are some basic guidelines.
Use big stickers that are colour coded and clearly priced. The bigger the price tag the more likely someone is to pick up the item.
Be realistic with your pricing; if you think something is worth $5, price it at $3!
Day of sale
4. Set up for the sale
The best way to set up your items is to lay most things out on tables.
Don't pile things on top of each other.
Make sure everything is clearly visible.
Clothing is best displayed on racks
Large items should be displayed in front of the tables or on the front of your lawn or driveway.
Group like-minded items together and keep completely different items apart
Put all your books, games and movies together on a table.
If you have an great couch, put it in the most visible spot. If you have hundreds of DVDs, make sure they're arranged in a way people can sort through them.
6. Set up a testing area
If you're selling electronics, set up a testing area. All you need to do is run an extension cord from the house, place all the electronics together, and let people test them out on their own.
7. Be prepared to haggle and accept all types of payments
Be reasonable about haggling and stick to your guns if you really feel there's a value, otherwise come to a good deal
Make sure you have a lot of change on hand. Cash is great, but you need coins too. Organise this earlier in the week.
8. Handle the admin like a pro
Manage your inventory – Prior to the garage sale, list all of the items you are selling and note their price. That way if you have someone helping you, they'll know how much it is
Get a bumbag and fill it with about $20 worth of every coin (for change) and be sure to have lots of smaller notes (5's, 10's, 20's). Separate coins with coin bags you get from the bank to make it easier to find change.
Print off some receipt templates and fill out any information such as the date beforehand.
Get someone to help you on the day – have one person to man the tables, a person to show people bigger items and another admin support person to help with receipts, change and other tasks.
Consider holding a sausage sizzle on your front lawn for $1 or $2 with $1.50 cans of drink.
9. At the end of the garage sale
When the time comes to end your garage sale and the people are dwindling, offer all remaining items for $2. If there's anything left over you don't want, donate it. Or attempt to sell it on Gumtree.
What are your garage sale tips?
Comments