How to freshen up your outdoor areas in time for summer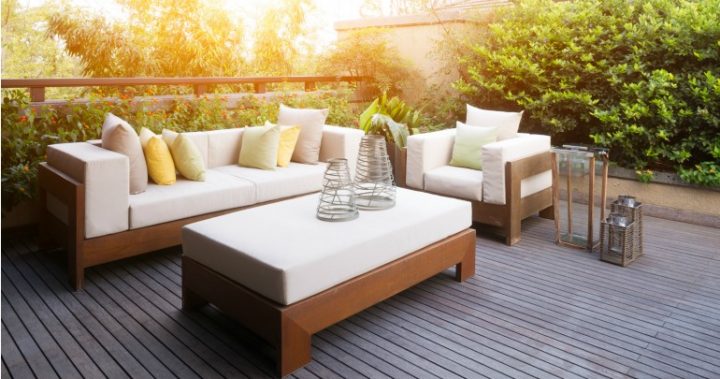 The weather is warming up and with it comes plenty of barbecues, cups of tea and family parties at your place.
No doubt during the cold of winter you hardly used your outdoor area.
With spring in the air, now is the perfect time to dust off your outdoor area, polish it up and set it up for the busy social season ahead!
From decks and verandahs to patios, there's plenty you can do to prepare your outdoor area for a big summer.
Whether you want to enjoy it alone or have people over, your outdoor area is a god-send when the sun is shining and the skies are blue.
Ad. Article continues below.
Here are some easy tricks to freshen up your outdoor areas.
1. Clean it up
It doesn't take much for leaves, bird droppings and dust to take over your deck or patio. Start by sweeping all the dirt and leaves off. During winter, your outdoor areas can become mossy and dirty. If you have a patio, hose down your tiles or concrete with a pressure washer. You can use either a hose attachment, high pressure hose or a jet washer such as Karcher. A simple pressure wash will bring your stones and concrete back to life in no time, making your outdoor area look as good as new.  You can do the same to freshen up your deck, or you can give it a wash down with a fast acting deck cleaning solution from the hardware. Just be careful not to hold the washer too close to any surfaces in case you damage them.
2. Oil or paint your deck
After giving your deck a hose down, it might appear faded or dull. You can give the wood on your deck or verandah a glossy, new appearance simply by using some decking oil or decking paint. There are a range of oils and paints for wooden decks available at your hardware. Just like painting a wall, all you'll need is a paintbrush or roller and a nice sunny day. It shouldn't take too long – just a coat or two and your deck will come up as good as new.
Ad. Article continues below.
3. Uncover your outdoor furniture and clean it up
If you covered up your outdoor furniture for winter, now is the time to uncover it and clean it up ready for entertaining.  Any fabric or rattan furniture, as well as cushions, will need a good wash down to get rid of dirt and mildew that can build up during the winter months. Just mix up a soapy water solution and scrub your furniture and cushions. When they're clean and dry, you can spray on some fabric protector to help your outdoor furniture last longer. Just like your wooden deck or veranda, wooden outdoor furniture can be prone to fading or damage during the winter months. While you're giving your deck a coat of oil or paint, why not do the same to your wooden deck chairs or dining setting? It'll freshen them up ready for outdoor summer entertaining!
4. Give your barbecue a scrub
Few outdoor areas are complete without a trusty barbecue. If you haven't used your barbecue in a while, there's no better time to get it ready. Start by giving it a thorough wash and scrub to remove any grease or oil that's built up. Check your gas bottle, if it's running low — replenish it. There's nothing worse than going to start your barbecue and not having enough gas! Make sure all your cooking tools have been given a good scrub too.
5. Change it up a bit
Ad. Article continues below.
Just like the inside of your house, your outdoor area can benefit from being changed up a bit. Whether it's rearranging your furniture, adding a few new pieces or incorporating lighting or greenery, a little bit of design can go a long way. Where can you start? For greenery, try adding a few simple pot plants. Window boxes and hanging baskets can also work well. Spring flowers or bulbs such as daffodils and tulips are a great addition. Try adding some flowers or stems/greenery in a vase on your outdoor table as an added feature. As for new additions or design changes, something as simple as an outdoor rug or a few new cushions can really brighten up your entertaining area — they won't break the budget and they'll be a sure talking point for guests when you entertain. As for lighting, outdoor lanterns, candles, solar lights and fairy lights can all add a little bit of extra magic to your outdoor area — particularly if you're entertaining on a warm summer's eve.
You only get three months of summer each year. That's three months to really make the most of your outdoor living areas. Why not give the simple tips you just read a go?
How do you freshen up your outdoor area for the warmer months? What do you have — a deck, a patio or verandah?