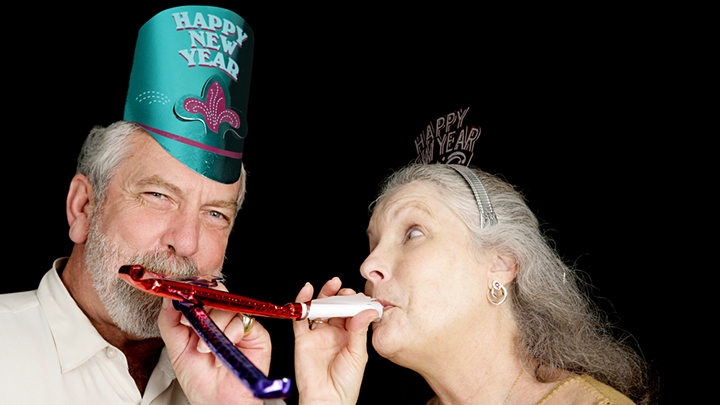 As another year is coming to a close, December can often be a stressful time. With so much time and energy spent on Christmas planning, New Years celebrations can often be left to the last minute. So what do you do when your favourite restaurant is booked out? Throw a fabulous New Years Eve dinner party of course. To help we have devised four helpful steps to throw an easy stress-free evening for you and your guests to end the year on a high.
The Guest List
Compiling a guest list can often be an oversight. Depending on the size of your dining setting, keen the number even and invite enough guests so that the evening doesn't turn into an awkward double date where conversation can easily trail off into silence. Be sure also to not over invite, often leaving table conversation divided with guests missing out on half of the fun.
The Table Setting
No fancy seasoned crockery sets are required for this occasion. Use your usual dishware and dress the table up with some simple elements. A black or white tablecloth makes for an elegant based to the setting. Don't stress over a centrepiece as they can often take up too much table space and get in the way. Opt for some flat laying flower buds like gerberas to place around the table adding some extra colour. For lighting, tall candles can easily be knocked over and exposed candles can drop wax on the table setting. Try going for some container candles such as tealight candles in small jars where the flame is protected and they can easily be pushed around the table if need be. Lastly, table cards can also be a fun idea to strategically position guests.
Beverages
Having glasses at the ready and a cold bottle of sparkling wine awaiting your guests' makes for a pleasant arrival. Sparking wine is an inexpensive alternative to champagne and makes for a crisp first drink. As the evening moves on the wine choice is simple, a medium red will go great with either red meat or poultry, and light dry white will go with fish and rich seafood. Both compliment an assortment of roast vegetables and carbohydrates.
The Menu
Rather than spending time prepping and cooking an entre, spend more time with your guests with some simple and tasty antipasto platters.
Choose from a range of soft and hard cheese, such as a brie and cheddar and different flavoured meats such as smoked ham and prosciutto.
Crackers are a crowd pleaser so go with a simple or plain flavour to marry up with the rest of the platter.
Finish it off with some sliced avocado, olives, basil pesto and pistachios. All of which will go perfectly with the sparking wine you're guests are enjoying.
If you find yourself umming and ahhing over what to serve for dinner, narrow it down to a main and dessert.
For the main, make use of any seasonal ingredients and aim for 3 elements on each plate – Meat, greens and carbohydrates.
Oven roasting is a great option because you can leave the food to cook and be with your guests.
Pick a familiar meat element that you are confident cooking and pair it up with seasoned vegetables and be innovate with your carbohydrates.
The hearty potato can be transformed into creamy garlic and chive mashed or a fully loaded jacket potato stuffed with tandoori chicken and mango chutney, topped with Greek yogurt and shredded cucumber.
For Dessert, combine some smooth liquor into this element for a rich finish to the evening. Bailey's cheesecake or chocolate cake with whisky infused ganache and fresh strawberries will have your guests' tastebuds tingling.
A couple other useful tips that can help make the night run smoothly include some easy listening background music, having some simple decorations like helium balloons or take some of the burden off yourself by requesting guests each bring an appetiser for the table.
How will you be celebrating this New Year's Eve?
Comments