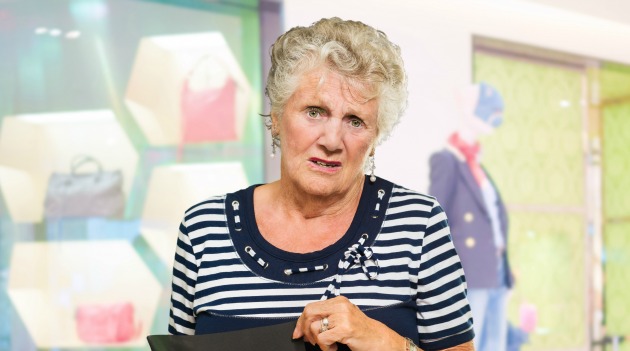 I loathe the Boxing Day sales. Fighting crowds of people for products I don't really need is not my idea of fun. This year was different though, as my son is getting married shortly and has been in dire need of a new suit. Unfortunately I don't know the first thing about suits, so when a smiley sales assistant in her 60s approached asking if we needed help, it was a welcome and unexpected occurrence.
My son and I were at a popular department store, and the menswear section was brimming with people looking for a bargain. We must have looked forlorn as we considered the twenty-odd different brands of suits available. When the kindly sales assistant, let's call her Margaret, approached wearing a measuring tape around her neck, I knew we'd be in safe hands.
Margaret quickly sized my son Henry up, understanding his exact proportions with a flash of her measuring tape. She congratulated him on the upcoming nuptials, and asked whether there was a specific colour theme for the wedding. When Henry said he just needed a classic black suit, Margaret assured him she had just the thing! The first suit jacket was comfortable and fitted well, but the collar was too narrow. The second jacket moved with ease, but the fabric wasn't quite right. The third suit jacket that Margaret recommended though, was sheer perfection. Better yet, it was half price!
Next came the pants. Margaret recommended a pair which exactly matched my son's new jacket. She even ventured into the changing room with us to ensure the fit was correct. Margaret instructed Henry to sit down in his new formal pants, just to confirm there would be enough room for eating and dancing on the wedding day itself.
We weren't done yet though! Margaret helpfully reminded us of the store's hire section, which could be useful for Henry's two groomsmen. When Henry asked to look at suits available for hire, she graciously recommended a number of options that would match Henry's look. We ended up depositing for the hire of two other suits, just because our customer service experience felt so positive. We were sure Margaret had made good choices for both groomsmen!
Happy with our purchases, Margaret accompanied us to the sales counter. She told us what days she worked, in case we needed any other help with wedding attire. Margaret also spoke highly of her older co-workers, who had decades of experience shared between them. In fact, Margaret revealed that she was actually retired now, but chose to work in the department store to earn extra pocket money and meet new customers.
I could tell that Margaret had real passion for her job – she revealed that she had worked in fashion since the age of nineteen. Her experience showed, but more importantly Margaret delivered the type of old-fashioned customer service that I haven't encountered in years. My son and I were anticipating hours of deliberation, comparison and probable bickering. Instead, Henry and I walked away with a perfect suit for him, and great ideas for his groomsmen too.
The customer service experience that Margaret offered left a smile on all our faces. She had achieved the impossible, and made the Boxing Day sales an enjoyable event! Margaret has restored my faith in retailers, but there is one obvious shortcoming: Being aged over 60 and semi-retired, the excellent customer service that Margaret and her contemporaries have offered throughout their careers may begin to fade. I think it's important that young people working in fashion and retail today, begin to understand the importance of genuine interpersonal connection and take a real interest in their customer's needs.
Thank you for restoring my faith in retail, Margaret! I only hope that younger generations can learn from your excellent example.
Do you believe that good old-fashioned customer service is dwindling? Have you encountered particularly good (or awfully bad) customer service? Share your experiences below!
Comments