How good was your marriage proposal?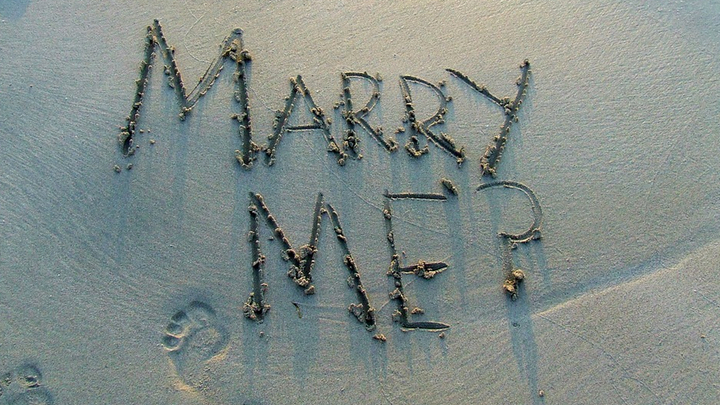 Popping 'the question' is a rite of passage that so many get to do. The thing that makes the men of the Men's Shed laugh the most is that they were all nervous when they asked, even though some of the blokes had been with their partners for years before the event. Stats at 60 asked the men of the shed about how they asked their partners for their hand.
Ad. Article continues below.
"Well, I did it the old fashioned way," Isaac remembers. "I went to her old man's house and asked him for his blessing. He said yes, and then I asked her before he could blab it. He was never one for keeping a secret," Isaac finished with a laugh.
Bob pushed to the head of the group, "I can beat that," he said. "My lady and I were at a big barbecue lunch at the beach with a group of friends. I had done a little prep ahead of time, and the group knew what I was going to do. We paired off from the group and went for a short walk in the sand when I spotted a red ribbon sticking up outta the sand. I pointed it out, and she went over to pull it. She pulled and pulled and followed that ribbon for a good 5m before it pulled up a box. She opened it, and I was already on my knee. I'd like to say it was like out of a movie, but she got so excited she pushed me over, and I rolled down a small dune." Bob laughed, and the boys cheered.
"I had it all planned," Henry said.
"It was going to knock her socks off. I had her dad and mum in on it, her sister was flying down from Queensland, it was going to be amazing," Henry said with a laugh.
"The day before I was going to do it, we are on the couch, and she says to me 'I suppose you are never going to ask me, but I want to get married. What do you reckon?' I was so damned shocked that I just blurted out 'Yeah, I reckon that'd be great.' And that was that. Her family came over to celebrate, but I couldn't believe it. Months of planning and she gets me first. Kind of the theme of our whole relationship," he concluded.
How did your proposal happen? What was the most interesting proposal you've heard of?