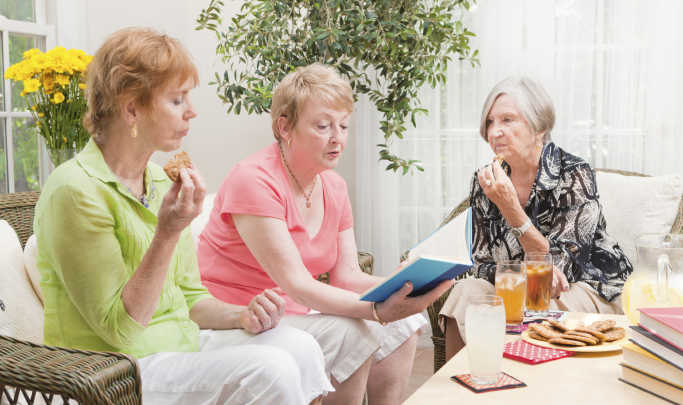 As you get older your social circles and social situations can change.
Whether it's your friends moving away to be closer to family or downsize or the tragedy of your friends dying, we can lose our connections as we get older.
Particularly when you first retire, or when you move, making new friends and establishing a social life can be a real challenge.
So, how can you make new friends?
The most important thing to know is there's no foolproof way you can make friends at a certain age.
Ad. Article continues below.
We're all different socially, we all connect and interact differently.
But there are some steps you can take that will help you make new friends.
Psychologist Dr Kathy Jordan has five tips she recommends for making friends at an older age.
Her first step is to admit you're feeling lonely.
"Last year, I got so used to a limited social life and lack of local confidantes, that I stopped noticing how lonely I was," she writes.
Ad. Article continues below.
"Whatever your loneliness red flags, recognise that loneliness is not a character flaw—it's simply God's way of telling you to GET A LIFE!".
Once you can admit you're lonely and want or need some friends, then you can take the next step – looking at what kind of friend you want to be.
Dr Jordan says the most important thing you bring to a relationship is you.
"Make a decision that you will show up in the world as someone who is worth having as a friend," she writes.
"That way your energy, honesty, and caring personality will draw people to you when you meet."
Ad. Article continues below.
That leads into Dr Jordan's third step, which focuses on what you're looking for in a friend.
She writes that you shouldn't lower your standards for the sake of just having friends.
"The more conscious you are about what kind of friends you want to have, the more likely you'll find people who meet your needs," she writes.
Why not think about who you want to be friends with? Do you want a friend with some shared interests? Someone you can do things with? Talk with?
Ad. Article continues below.
Once you answer this, it'll help guide you through the next step – which is one of the hardest.
The fourth step is to join a club, or a social group.
Whether it's an online forum, a chat group or a social club in your local community, this is a great way to meet new people.
Dr Jordan said you should accept your social discomfort and shyness about joining a group and join anyway.
"It's really the only efficient way to meet kindred spirits. View it as a necessary evil." she writes.
Ad. Article continues below.
"Choose only those groups devoted to activities or causes that you are passionate about.
"Focus on how you can contribute to a worthy cause, and you'll lose your self-consciousness about being the new kid on the block."
And the fifth and final step – invite people for dinner, coffee or lunch.
Dr Jordan writes that many people are intimidated by the prospect of inviting people to their home, especially if they don't know them well.
"If the thought of food preparation makes you want to jump off a bridge, plan a pot luck dinner, or even a group dinner at a modestly priced restaurant," she writes.
Ad. Article continues below.
"The important thing is to break out of your social shell and take those first steps to forming new friendships."
If you struggle to meet people in person, there are always online forums you can use as a starter.
Why not come along to one of the Starts at 60 coffee meet ups?
You can meet a range of fellow Starts at 60 readers and enjoy some company with like-minded people.
Getting older doesn't have to mean you get lonelier, in fact, your social life is just getting started!
Do you struggle to make new friends? How have you made new friends in the past?