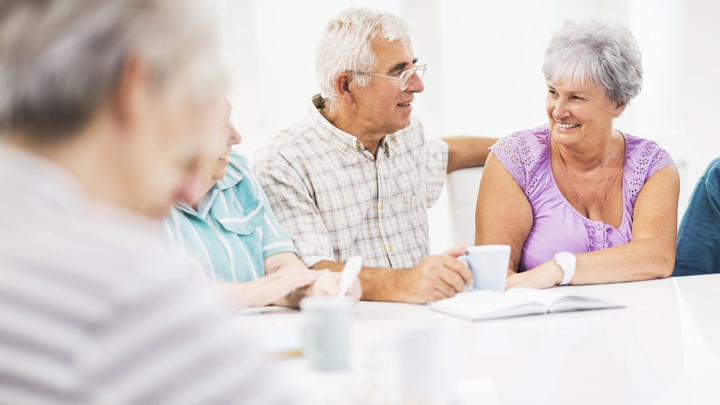 When we think of share houses or flatmates, we instantly think of our grandchildren. People in their 20s and 30s are the only ones looking for shared accommodation, right? Actually, there's plenty of over 60s who are enjoying shared living.
According to research from the University of Sunshine Coast, it was found that over 60s need more variety, choice and flexibility when it comes to housing in our booming seniors society. There are some obstacles, though, as cultural stereotypes can stand in the way of older Australians finding more flexible living options, i.e. living in share houses.
The research also found that although society perceives being over 60 to be "old", in fact young and older people actually have similar needs in terms of what they want from housing…meaning there's no reason to think a senior living with a 20 or 30-year-old won't work, or vice versa.
"We found that seniors valued being close to public transport, service, and employment – especially casual employment – and a diversity of housing stock which is typically what's taken into account when planning housing for younger people", said the study's co-author Phil Smith.
In the study, housing plans were shown to more than 40 seniors in Queensland. Mr Smith said the idea was conceived in response to the number of seniors who lived in suburbia and were usually ultimately forced to sell-up and move into aged care facilities, often suffering a financial loss at a time they could least afford to.
Ad. Article continues below.
"We designed the house with the idea that two, three, or four people may come together to share their backyards and create a communal building, possibly looking to tenant their main houses as a source of revenue, and living together in the shared facility", he said.
Essentially, over 60s could live in a big granny flat that is just like a university share house. If implemented, an idea like this could help with depression and loneliness that affects so many in our community. But would it be cost effective? Socialist Yankel Fijalkow says, "Accommodation is expensive…with the current changes in family models, we go from being part of a couple to living on our own [and now to] a house-share. People are flexible and adapt when the housing market is prohibitively expensive".
Senior share houses are all over the world and Colocation Seniors, an organisation in the western French city of Nantes, has already helped dozens of seniors set up house shares in the last three years, offering continuing support even after the house share has been organised.
If you're considering sharing a house with a friend or stranger, psycho-sociologist and author of a house share survival guide for the elderly, Christiane Baumelle says, "Joint renting with friends is delicate, because old friendships were not chosen with this in mind. A thousand people can come forward online but from experience, women are much more indecisive about making the leap than men".
If you don't want to rent or buy by yourself, or even go to a retirement village, sharing a house is a great option – it's gaining ground with Gumtree and Flatmates.com.au making it easy to find a potential roommate.
What do you think of sharing a house with a friend or stranger? Would you consider it if you were looking for accommodation? Why or why not? Tell us below.