Unbottling the memories of the past
A crazed china plate, a folding ruler with brass hinges and initials etched into the timber, a linen tablecloth exquisitely hand-embroidered, now with a few age spots and tiny holes; each a little piece of history with a story to tell. Since opening my online vintage shop almost two years ago, many pieces like these have passed through my hands and I have wondered about their stories and admired their perfectly imperfect appearance.
Mostly, the stories of vintage and antique items can only ever be imagined. We can place the pieces in a certain era and their story is told by wear and patina. Occasionally, if we are lucky, their stories can be told by those who were there, connecting us genuinely with the past.
I buy many of the items for my shop from a local auction house. The pieces going under the hammer come from a variety of sources and often include rather large collections. On one occasion, there were many auction lots that spanned an amazing collection of vintage cordial and soft drink bottles. I was immediately attracted to the smaller size bottles with their vintage graphics. They came from a time when bottles were returned, washed and reused, over and over. Recycling at its best! Some were in amazingly good condition, others more worn.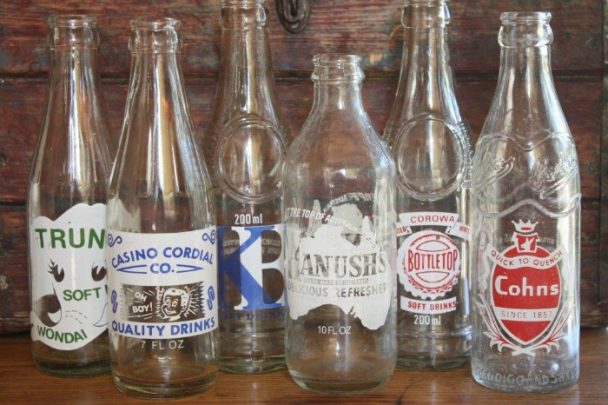 The labels were a thin ceramic, which mostly seemed to have stood the test of time very well, being still vivid and eye-catching. The company logos were most commonly red, blue or green, paired with white. There was also black, tan and a beautiful shade of teal. The logos and other labelling mentioned the towns, mainly rural, across several Australian states, which were the hubs of this industry, close to a century ago. Muswellbrook, Gundagai, Mildura, Bendigo and Gunnedah were amongst them.
Ad. Article continues below.
The auctioneer suggested that they would make great café décor. I agreed, and could also imagine them in a contemporary home, their bright vintage graphics on display. I also envisaged the possible connections that my customers may have with the places where these bottles originated and the family names that identified some of them. The bidding was fiercely competitive for the smaller size bottles, but I was successful in acquiring a few lots, despite being a relative newbie to the world of auction buying.
As it happened, one of the first bottles that sold from my online shop confirmed my thoughts about their appeal. I noticed that the customer's surname was the same as the brand name on the soft drink bottle. It was going to someone with a connection to the history of that bottle, for whom it held a tangible link to the past. Perhaps it was a gift for a family member, a meaningful gesture intended to evoke memories or acknowledge a connection for the recipient. Since then several other bottles have sold under similar circumstances, with obvious links to a name or place in the address of the buyer.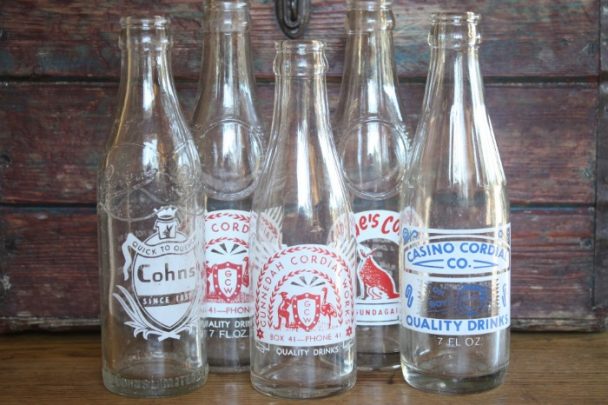 When visiting my 90-year-old father-in-law recently, I noticed a single large vintage cordial bottle on a shelf in his kitchen. The red and white ceramic label was for Noon's Cordials Windsor. It was not as old as the ones in my shop, having once had a screw cap lid. The connection was there, my parents-in-law having lived for many years in that area of New South Wales.
Ad. Article continues below.
Knowing that my father-in-law grew up in Tamworth, I told him I had some small vintage soft drink bottles from there. He asked if they were Lillyman's brand. They were not, but to my surprise, he went on to say that he had worked at the Lillyman's factory, as a young teenager back in 1938 and 1939! It was a school holiday job, putting the returned bottles through a large, primitive dishwasher. He worked with another young fellow and they took turns at two tasks; placing the dirty bottles in the machine (the less pleasant job) and pulling out the clean bottles (much preferred). Blessed with a sharp mind in his advanced years, he told the story as if it had happened yesterday and in my imagination, as he spoke, he was again that young lad, blue eyes and wide smile, working for some pennies in his holidays.
Until that conversation, I had thought that my interest in these vintage bottles lay in an appreciation for their bright graphics and the history represented by the bottles, of a rural Australian industry in simpler times. Turns out I had a personal connection to those little pieces of history, through someone who had lived through those simpler times.
I'll be keeping an eye out for a Lillyman's bottle.
Do you have any vintage items you've collected that bring back special memories like these?