Pauline Hanson's plans shot down after 'Dirty Harry' day out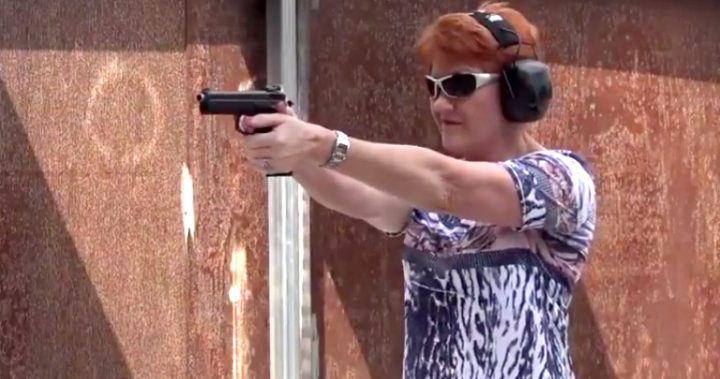 She was in Queensland promoting a proposal for Queensland police officers to have better access to firearm training but is One Nation's Pauline Hanson shooting for bigger things?
After spending a day at a shooting range she's now vowed to get her own shooting licence.
"I had a great day at the North Arm Pistol Club with Lex and Murray who took me through some firearm training and target shooting," the senator wrote on her Facebook page.
"I've always been a supporter of legal firearm ownership in this country and today proved to me that this is also a great sport for men and women of all ages."
In the video she had even more to say, saying it was the best day she'd had in 20 years, feeling her feel like she was Dirty Harry.
Ad. Article continues below.
Pointing to her paper target she said "Don't mess with me, just make my day if you want to have a go."
"I'm going to go and get my license. I've been promising myself for a long time.
It's a great sport and who knows – the Olympics, future? Why not? Have a go."
STRAIGHT SHOOTER | Pauline Hanson at #SunshineCoast shooting range to promote firearms policy #auspol

MEDIA RELEASE:https://t.co/U5FgEkQmj8 pic.twitter.com/EZ2LnwMrGI

— Pauline Hanson (@PaulineHansonOz) September 21, 2017
Ad. Article continues below.
Not everyone was in support of her comments with people taking to Facebook to voice their objections.
"Shooting stuff is not sport, it's violence," one person wrote, to which she replied "Paper targets is hardly violent. You really should take a visit to a sporting club once in your life – you'd get a deferent perspective."
Not everyone agreed with her policy plans for police either.
"I'm sure everyone agrees we want it to be as easy as possible for our Police Force to train and improve," Senator Hanson said, "I think this policy is just common sense."
"In the past, police officers were permitted to train with their service weapon but because of old target shooting regulations when the Glock was brought into service this was discontinued."
"I think it is time to update this outdated law so those dedicated members of the police force who wish to become more proficient with their firearms have as much assistance as possible."
Ad. Article continues below.
One responder said "They should not be armed they are too trigger happy these days. In England every day Police do not carry guns. They have a special task force to handle matters where firearms are needed. Should be the same here. Nothing worse when you get pulled over by a cop for what they say a random breath test and while sitting in the car all you see is that loaded gun on their hip. Intimidation that's all it is."
Another wrote: "I wish you wouldn't post things like this Pauline. It puts thoughts in peoples heads that weren't there before, and reintroduces gun ownership. There are ramifications. I would say think before you act but that obviously doesn't work for you."
What do you think? Are Pauline Hanson's comments promoting gun safety or has she fired off on a dangerous topic?