Nick Kyrgios announces his new life purpose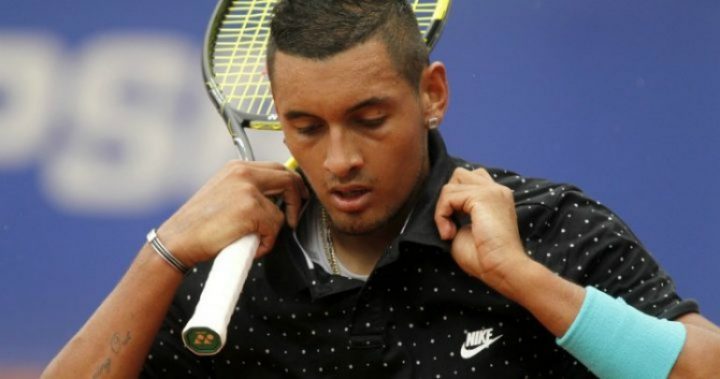 It's been a tough year for young Australian tennis pro Nick Kyrgios, but things might be looking up.
In August the 22-year-old, ranked No 20 in men's singles, crashed out of the US Open in a blaze of broken rackets and bad language and he's faced repeated accusations of throwing matches and numerous on-court meltdowns.
In January, he also had a verbal run-in with tennis legend John McEnroe who called Kyrgios "a black eye for the sport" and failed to make it past the early rounds of a Grand Slam.
Read more: US tennis fans slam Nick Kyrgios for 'doing a Tomic'.
But now Kyrgios thinks he's found his life's purpose, according to a piece he wrote for Players Voice. 
Ad. Article continues below.
"What's the purpose for all this?," he wrote.
"I've been asking myself that question for the last couple of years. Matches like the China Open final against Rafa Nadal haven't been the issue. I don't usually struggle for motivation on the big stage, even if the final result wasn't what I wanted in Beijing.
"It's the rest of it. The travel, the time away from loved ones, the social media trolls, the battles with the media, the early round matches on the back courts when all you want is to be back in Canberra playing FIFA with your mates. It's that stuff.
"You've no doubt noticed that I'm not all that good at hiding the fact I'd rather be somewhere else a lot of the time. So, what have I been doing it for?
"You hear people talk about being motivated for their kids, or a cause, or something more than just themselves. It's inspiration, pure and simple, and it gives them focus when times are tough. There's a reason underpinning everything. It's a higher purpose than just collecting a pay cheque.
Ad. Article continues below.
"I haven't had that and I've always been envious of those who did. I think I've found my purpose in the last couple of months. I'm building something. It's going to be sick.
That purpose, he said, is his vision to build a facility for disadvantaged and underprivileged kids where they could hang out, be safe and feel like they were part of a family. "There'd be tennis courts and basketball courts and a gym and an oval to kick the footy. There'd be things to eat and beds to sleep in."
After speaking with his family they are now looking for locations and business partners to help make the dream a reality.
"For the first time, I feel like there is a reason for me to be doing what I'm doing. Tennis is a great life – we're well paid and the perks are pretty good – but it can feel empty if you're just doing it for the money."
"I love kids. I get more happiness from helping kids out and watching them succeed than I do from my own wins on the tennis tour. It's always been that way."
Would you support the tennis star in this endeavour?