Hince on Wine: The bubbly world beyond champagne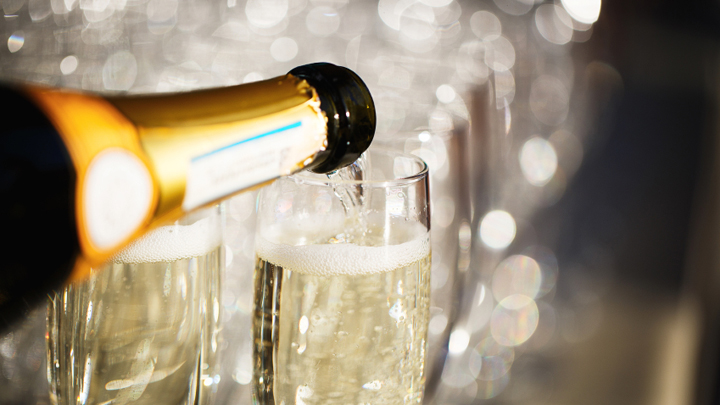 There's nothing better than popping the cork on a celebratory bubbly or two during the holidays, be it a value-for-money champagne (and there's some good quality le champagne from La Champagne around at under $50 a bottle), for sheer, hedonistic indulgence champagne is hard to beat, however there's a world of effervescent, exuberant and sparkling excitement beyond champagne.
If you want to delve into the luxuriant world of champagne then Tyson Stelzer's "2014/2015 The Champagne Guide" is a must.
If you are after bubbles that tickle your nose and delight your palate why not try a sparkling Prosecco from Italy or Australia, a Cava from Spain, a Crémant de Loire from France, a Sekt from Germany, some Franciacorta or a Lambrusco from Italy or some fine Australian fizz, especially from Tasmania?
Traditionally, many sparking whites are made from straight chardonnay or chardonnay and pinot noir blends, with some Pinot Meunier added occasionally. Generally a chardonnay and pinot noir blend is more suited to food whereas a straight chardonnay (or blanc de blanc) style is at its best as an aperitif.
However aside from these classic grapes there's an ever increasing varietal diversity emerging of late as we can't seem to get enough of the stuff. Today there's even a sparking Riesling and bubbly Chenin Blanc. Recently I even had a ripper Sparkling Malbec from Argentina and a Sparkling Gewürztraminer from Delatite in Victoria's high country!
Ad. Article continues below.
Then, finally there's the (you either love or hate them) sparking reds – which I will touch on in the future.
Meanwhile, purse your lips, prime your palates and fasten your seatbelts – here's part one of a quick voyage around the sparkling wine world.
Prosecco
Prosecco is an Italian sparkling white wine, generally a dry or extra dry wine made from Glera grapes now more commonly known as prosecco, named after the Italian village of Prosecco near Trieste, where it's thought the grape may have originated. Prosecco is the key ingredient of the Bellini cocktail and is often drunk in lieu of a more expensive champagne, and herein lies much of its burgeoning popularity locally.
Ad. Article continues below.
For the most part it has a neutral, light palate with high acidity and moderate alcohol (around 8.5 per cent or so) making it an ideal base for adding the likes of peach purée nectar or liqueur (as in the classic Bellini cocktail) or essence of your choice.
Traditionally champagne-based cocktails like Kir Royale (champagne with a dash of Crème de cassis (a dark red blackcurrant liqueur) and the ever popular Buck's Fizz (two parts orange juice to one part champagne) ruled the roost – not so much now.
That's where Prosecco has really come into its own and sales of both Italian-made and locally produced Prosecco are going through the roof. It's less expensive than Champagne or Franciacorta (often over-priced), and its neutral flavour and comparatively low alcohol make it an ideal base as a mixer.
Popular, readily available Italian Proseccos include Tenuta Cá Bolani, Valdo Marca Oro and Zonin – or if you want a top drop try Bellussi Prosecco di Valdobbiadene.
Closer to home Victoria's King Valley (aka "Prosecco Road") makes some quality Prosecco with Dal Zotto, Chrismont, Brown Brothers (Milawa) and Pizzini amongst my favourites. Nearby at Porepunkah in the Alpine Valleys, Kel Boynton's Feathertop Winery makes a stunning 2012 bottle-fermented Prosecco.
Ad. Article continues below.
While I loathe to adulterate good champagne, I love drinking Prosecco gently laced with a spirit or liqueur like the exotic Japanese ume (somewhere between a plum and an apricot) fruit liqueur – it's an ideal aperitif which always goes down a treat, especially during summer.
Equally as popular is adding a dash of Elderflower Cordial to a chilled Prosecco and occasionally we go wild and add a splash of Rhubarb cordial to Prosecco, although while I find it too astringent, others like it.
There's no end to the syrups you can add to the likes of Prosecco – peach, apple, strawberry, blackcurrant etc. – just make sure it's a quality liqueur!
Cava
Ad. Article continues below.
Cava is a Spanish bubbly that mostly comes from Catalonia and is made the same way Champagne is produced (bottle fermented), but with different grapes. The predominant Cava grape is Macabeu which is blended with Xarel·lo (sounds like 'Cheryl-ooh') and the zesty Paralleda which in combination create a wine somewhat akin to Prosecco but not as nutty as say a vintage champagne.
There is some upmarket prestige, vintage Cava made from Chardonnay and Pinot Noir. One of the better known Cava labels available locally is the extravagantly bottled Segura Viudas Brut Reserva Heredad NV – and for those seeking distinctive, boutique Cava labels like Agustí Torelló Mata, Raventós i Blanc and Torreblanca are worth trying though expect to pay around $40 or more for some of these.
Crémant de Loire
Crémant in French denotes "creamy" and Champagne aside, many regions in France have their own Crémant style sparkling wine, including Bordeaux, Burgundy, the Jura and the Loire Valley, the largest producer of sparkling wines outside of the Champagne region.
Ad. Article continues below.
Crémant de Loire is mainly blended from Chardonnay, Chenin blanc and Cabernet franc grapes. I like its floral nose and fresh, delicate honeyed palate, especially as an aperitif. Labels worth looking for include Langlois-Château Crémant de Loire Brut ($30plus), while Monmousseau Brut Crémant de Loire Rosé at a tad over $20 is a steal.
Also look for Domaine Baumard Crémant de Loire Carte Turquoise NV ($36). It's a complex wine of finesse made from Cabernet franc and Chenin blanc – it reeks of pristine, clean fruit with minerally overtones.
Finally before I wrap up part one – let's visit Germany.
Sekt
Ad. Article continues below.
In Germany quality sparkling wine is called Sekt and one of the most recognisable labels available locally is Henkell Trocken Brut NV Sekt – I'm not a great fan of Sekt which I find a bit steely and short on flavour, however I had a Henkell Sparkling Riesling once which had an intense floral nose and citrusy, white peach palate. Most Germans, like us Aussies have an affinity for sparkling wine.
Next we will be tucking into some fine Franciacorta and quaffing a laidback Lambrusco or two from Italy then, to complete our journey, sipping some fine fizz from right under our nose here in Australia, till then…
Cheers
Which of these wines have you tried? What is your favourite type? Tell us below.