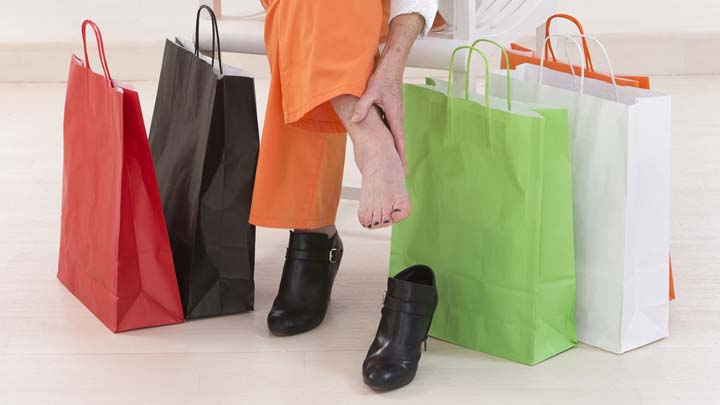 The dreaded lines on a shopping centre are enough to turn even the most addicted shopaholics right off, and they're at their peak around Christmas.
Even a few weeks before Christmas can cause headaches as shoppers rush in to get those special presents for their family or partner. It is chaos and can be a complete nightmare.
So how can you avoid the shops but still do all of your Christmas shopping? Well, you can do it at home right from the very device you're using to read this.
That's right: online shopping. It's convenient, you can do it 24/7, there's no lines and you can shop around for the best price.
Here's some information to help you get the best outcome from your online shopping experience:
How do I begin shopping online?
If you're looking for something specific, simply Google it, or, if you know what online store you want to purchase goods from, head there. Once on the website, you can search for an item, browse and view sales. When you know what you'd like to buy, this is sometimes where people who are new to online shopping run into trouble.
Find the 'add to cart' button and you'll see it appear in the right hand corner in a little shopping trolley/basket. You can either keep shopping, or check out. Click on your cart to check out your goods. You may be asked at this point to log in or you may need to sign up. After this, you'll need to enter your shipping details including name and address.
How do I pay?
Paying for goods online seems daunting but in actual fact it is completely safe if you use a reputable retailer. Look for a little lock in the URL (address bar of the website) – this means the site is secure and your information is encrypted. You may be given the option to enter your credit card details in a form, or you can use PayPal. PayPal is widely regarded as one of the safest forms of payment in the world, in the real world and online. Plus they have excellent buyer protection meaning if you don't receive your goods, you can typically get a full refund.
Tip: If you have a discount code, you can enter it in when you get to the checkout. If you're a new customer, there's often discount codes available and you might see them in banners on the site. Otherwise, you can just Google them. When you go through to the checkout, in the payment screen, there should be a field for you to pop in the code. Apply it and it'll take off a percentage of the cost!
Click and Collect
Click and Collect is a relatively new concept and is basically as easy as ordering a product from an online retailer, and collecting it in store. It saves time and streamlines the process of looking for a product and checking it's in-store and going into the shop and finding it.
When will my order ship? Will it make it before Christmas?
Due to the boom in online shopping, post services all over the world see Christmas as their busiest time. This means that sending a post card, letter or parcel takes longer and conversely, so does delivery time. To be sure that your product will arrive in time, follow these guides.
give 4 days for a domestic letter delivery
give 14 days for a domestic parcel delivery
give 21 days for international parcel delivery
If available, it is wise to choose an option that gives you a tracking code – this way you can avoid having your gifts lost or stolen while in transit and if something happens, you can track it.
Tracking shipments is very easy online, though if you have any issues or concerns, always refer back to the retailer. Often, Australia Post, TNT and other transit companies cannot provide details into your order without input from the sender. It's best to be patient and if you're in a hurry for something, pay that extra cash to have it sent via Express.
Also, some delivery companies may require you to assist them with the goods (if they are over a certain weight) so always prepare for another person to be home to assist on the day of delivery. Note: there are still some couriers that require you to be home between 9-5pm on the day of delivery, so again, check this before you go ahead with payment. Most online stores and retailers provide tracking consignment details automatically, but if they don't, they should have them on file so simply email or call the business.
Tip: Some retailers/online stores say there's free shipping, but only if you spend a certain amount. Ensure you've checked this by going into the FAQs to see if you're eligible. Also, if you live rurally or on an island, there's a chance the shop will not ship to you at all. It pays to give them a call if you're unsure or if the shipping quote is very high or non-existent.
Can I still get a refund or warranty on a gift?
If you purchase a product from an Australian website, you're fully protected by the Australian Consumer Law. That essentially means everything it does in store: you are entitled to a refund if your product is faulty, damaged on receipt, or doesn't do what it says it does. And you can return an item too. Bulky goods such as electronics will have warranty periods stipulated in the paper work. If you have an issue or you're not happy with your product, the first port of call is the retailer who will advise the next steps.
What if I have a question about a product while I'm shopping?
If you have any issue with your purchase or questions, it can be handy to have customer service on hand. Plenty of online retailers offer multiple options include a phone number, email address, social media and live chat. Live chat can be the most handy if you don't want to be stuck on hold and need an immediate response. Look for it around the bottom of the screen or in the contact us section.
Other common questions
How do I know the clothes/shoes/underwear I buy will fit?
The simplest answer is to get your family's correct measurements or usual sizes. Ensuring you have all your measurements will make sure you get the correct size in line with the retailers sizing guide (which should be available online).
When's the best time to shop?
November 17
Tomorrow night at 7pm marks the beginning of Click Frenzy, Australia's largest 24 hour online shopping event. Some of the participating retailers include:
For the full list and to begin shopping tomorrow evening, click here.
November 28 to 30
This is Black Friday in America – traditionally the biggest shopping day of the season. Look out for the sales online at your favourite stores.
December 1
"Cyber Monday" is held every year on Decmeber 1 and is THE day to go online to score any type of product from the brands you like.
December 21 to 24
If you live in a metro area, this is the time to get a bargain on big-ticket items, like televisions, furniture, and fine jewellery. Bear in mind you might have to pay for overnight or two-day shipping.
Can I buy things from overseas?
Yes! The internet is your shopping centre and you can buy from anywhere that says they ship to Australia. Make sure you check the shipping time and any additional costs.
Otherwise, you can get access to great products from overseas for the overseas prices by using a different service.
The most reliable method for Australia is ShopMate. This service was launched this year by Australia Post so people can send parcels from American websites to the ShopMate address and they will be forwarded on to Australia. The cost of this service is $24.95 per parcel plus $5.95 for every 500 grams.
Where else can I look?
There are so many different sites out there, but here are a few of our favourites where you can get everything you need…
www.etsy.com.au is wonderful website where you can purchase unique, handmade gifts.
www.westfield.com.au – this is your local Westfield shopping centre wrapped up into one website – you can do almost all of your Christmas shopping here.
www.bcf.com.au – need some camping equipment for the bloke in your life? Head to the BCF website to get all of your active and adventurous gifts.
www.kogan.com/au/ is a one-stop shop for everything – clothes, homewares, electronics, garden accessories and more.
www.onlinetoys.com.au is the place to go for anything on the grandkids' wishlists.
So with that information under your belt, you can feel prepared for Christmas shopping, knowing that you can do it all from the comfort of your lounge chair with a nice glass of wine in your hand!
Tell us, where and when do you do your Christmas shopping?
Comments