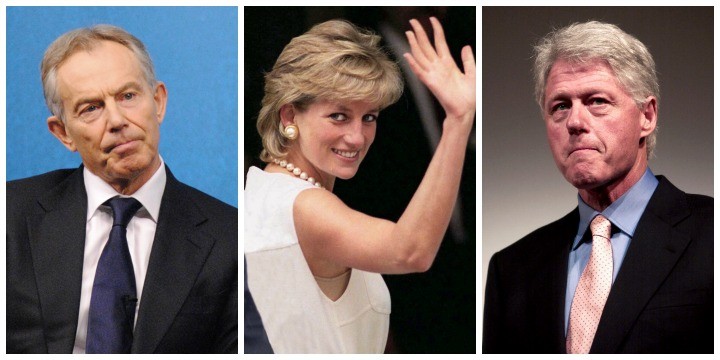 Conversations transcribed from 1997 have shown the pain that even world leaders experienced, following Lady Diana's untimely death. Tony Blair and Bill Clinton described her tragic departure as "like a star falling", and even spoke about princes William and Harry.
Their conversations have been released to the Clinton Presidential library, and originally took place in the days and weeks following Diana's death. Here are some of the exchanges between former British Prime Minister Tony Blair, and United States President Bill Clinton:
Blair: We saw (Diana) again just weeks ago when we hosted her for lunch with Prince William, he's a great kid.
Clinton: Yeah, I worry a lot about those kids now.
Blair: She was such a rock of stability in the sense she connected them with the outside world. The eldest boy, William, is quite like her in a way, he is very "feet on the ground", he does things kids his age do.
Clinton: Well, I just feel so bad for her. She was just basically getting a hold of her life.
Blair: …The problem was the way she lived, in a press frenzy. It's impossible to contemplate how intrusive it was, into every single aspect of her life.
Blair: She was of the royal family but she was liked by ordinary people, it gave her problems with the royal establishment.
Clinton: Well, I know it's a difficult time for you. I just wanted to let you know I was thinking of you.
Blair: I will personally miss her, it's like a star falling. She was a star for them.
These touching conversations highlight just how well-loved Lady Diana was. She continues to be missed, but it we are sure Diana would be proud of how William has started his own lovely family, and how Harry continues to carry out good work with the army and charity organisations alike.
Share your thoughts on these poignant historical moments below:
Comments