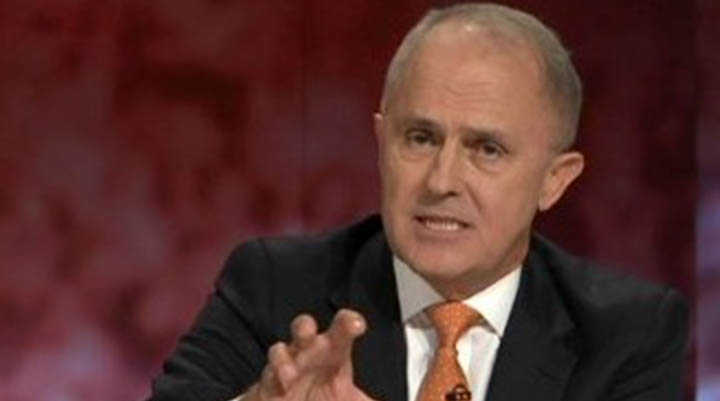 Malcolm Turnbull has been doing everything he can to see whether Australians will arc up against him and his feedback gathering is simply growing his confidence to act on the big issues, or it was, until the latest NAB Business confidence figures were released today showing a slide in confidence. If you've been watching carefully, the Liberals appear to be in "sounding board" mode, testing out a number of big issues in an informal manner using the media to gauge public sentiment for addressing them properly over coming months. He's hammered home the need for welfare reform aimed at family tax benefits, discussed significant tax reform with indications the Government could be interested in raising the GST, suggested changing the health insurance system might be important and eluded to the need for changes to the pension assets tests too. There's been significant public furore at the issues, but none of it had stuck to Malcolm Turnbull or the Liberal Government in the last 8 weeks, until now. In fact, quite the opposite.
It is Mr Turnbull's eighth week in Government and his public approval rating, according to Newspoll, continues to rise. Yesterday, Roy Morgan were reporting an extraordinary rise in business confidence, but today, the wind has come out with NAB's report showing the business confidence report sliding back to just 2 points, just one point above where Tony Abbott saw it sitting two months ago as 1. It spiked last month to a high of 5, after a month of Turnbull in the lead.  It seems people feel comfortable with Malcolm Turnbull making decisions, but not as comfortable as they did last month. So we have to ask whether Turnbull's gloss has worn off, leaving people waiting for significant action to prove his resolve?
Yesterday saw business confidence pushing sharply higher in the Roy Morgan Business Confidence Survey for October, when it increased 6.5 points or 5.8 percent to 119.3. This is the highest it has been in a whole year, and follows a strong month in September when Turnbull ousted Abbott from the top job.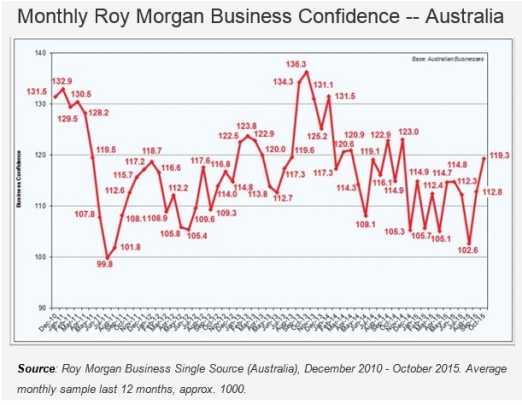 NAB's numbers today point to a less pretty picture. The Sydney Morning Herald reports NAB economists, led by Alan Oster, describing confidence as "somewhat fickle", and suggested the relief from both Canberra's leadership change and from the end of recent global market turmoil was short-lived.
"The confidence index eased back in the month, unwinding much of the gain following the government's leadership resolution and a paring-back of concerns about emerging markets," he said.
The latest Newspoll is also out today, and in it Turnbull has found himself again strongly ahead of Bill Shorten as preferred Prime Minister, something we thought was impossible a few weeks ago and the Coalition has found themselves again on the up. On two-party preferred basis, the Coalition is ahead by six points, 53 percent to 47 percent for Labor. It's important though to see that Turnbull's lead over Shorten narrowed slightly, down from 46 points to 43 points, and Shorten's popularity grew from 17% to 18%.
"They see in Malcolm Turnbull a person who has a vision for this country and I think that's why people are supporting him," Dutton said to Sky News.
What do you think? Is Malcolm Turnbull's gloss wearing off or do you think he is doing a good job?
Comments