Handy uses for items in your 'Junk Drawer'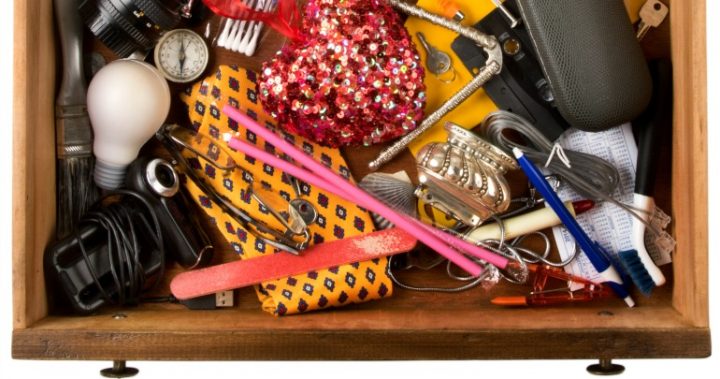 Everyone has a "Junk Drawer"— that one drawer you find yourself putting anything and everything into in an attempt to clean up. Junk drawers are normally filled with a number of items that may seem useless but can be up-cycled in ways you may not have thought of.
Mousepads
Old mousepads are great to use in the kitchen. You can use them as trivets for standing hot pans on—just make sure the mousepad is made without a plastic cover.
Cupcake wrappers
Old cupcake wrappers can be turned upside down to make charming lid covers for jars of jams and homemade pickles. Simply use a rubber band or twine to secure the cupcake wrappers on top of the jar lids.
Ad. Article continues below.
Old glasses cases
Old glasses cases are perfect for storing jewellery, buttons and other small items. They are also great for storing small items and keys when you are moving.
Picture frame
With age, most people tend to collect an exorbitant amount of spare photo frames. Insert some coloured or patterned paper into an old picture frame to make a stylish vanity tray for your hair accessories, make-up or jewellery.
Contact lenses case
Ad. Article continues below.
Old contact lense cases may seem useless but they are the perfect size to be a mini pill holder. The lense case is a great option for keeping pills in your bag.
Funnels
If you are a keen knitter you know that nothing is more annoying than having to untangle all your wool if it has become a mangled mess. Use old funnels to unthread your wool with ease. Simply place the ball of wool into the top of the funnel and thread the end through the thin funnel shaft. This will keep the wool in order as you knit.
Cosmetic brushes
If you give your old cosmetic brushes a quick wash and dry, they make amazing cleaning tools. They are perfect for cleaning keyboards and remotes. If you love creating art you can also use them as paintbrushes.
Ad. Article continues below.
Salt shakers
Old salt and pepper shakers can take on a new life by being used in the garden. They are great for spreading small seeds and fertiliser across your soil.
Shower caps
Old shower caps are great to bring along on holiday; especially if you are going somewhere that receives a lot of rain. Cover your shoes with the shower caps to avoid getting your suitcase contents dirty when packing. The shower caps will protect your clothing from any dirt or moisture your shoes may have collected on your vacation.
Drinking straws
Old straws may seem useless, but they can great for keeping your jewellery protected and untangled. Thread a necklace through the straw and clasp it together to keep it untangled. The plastic covering will also protect the necklace from outside elements.
What do you think of these unique ideas? Which ones would you like to try?