Grow your own gifts for Christmas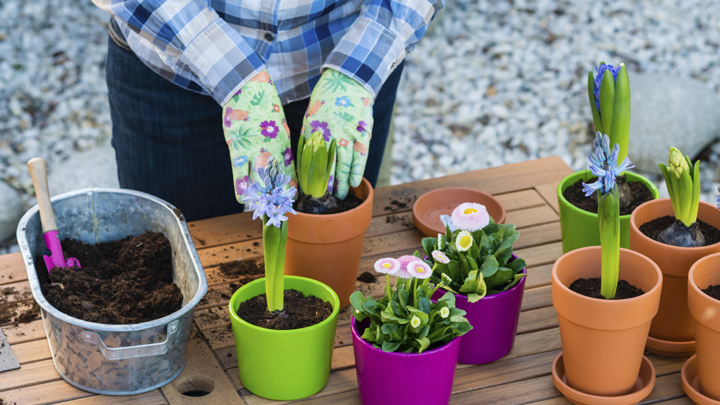 I am hopelessly biased but I think plants make the best gifts. Why? Because they keep on growing and giving. With around 3 months till the big day, now is a great time to make some wonderful gifts for friends and family that look great but don't cost the earth. Time is on your side and if you plant now, these gifts will look full and luscious by Christmas.
Pots of colour
Simply putting a colourful plant into an attractive terracotta or glazed pot can make a great gift. At this stage, planting from punnets may not give you a full enough size by Christmas, so choose the larger punnets or six packs of potted colour such as the ever popular annuals like petunias or impatiens, or even a great value perennial plant such as a Geranium, especially the stunning new variety 'Big Red'.
Succulent bowls
Ad. Article continues below.
You either love succulents or you don't! I do and they are so easy to propagate that you could make some stunning bowls of them and have them look great by Christmas. Most often grown in terracotta pots which they love, they should be filled with a general potting mix (not one with superior water holding capacity). Then simply stick cuttings of a few different smaller growing varieties and you have a contemporary table centre. There are so many different foliage colours, and forms to choose from. If you don't have some plants growing which you can take cuttings from, buy a number of different varieties which are well branched and take off cuttings, or ones that are full in the pot and can be readily divided. Some succulent varieties are even available in great value six packs. Plant your pot up with cuttings or divisions and top it off with a fine gravel, sand or even crushed brick. Make sure you keep at least one division for yourself and rest assured that despite being pruned severely, a branched succulent will re-shoot and you will get to keep it for yourself.
Herb Pots
Choose a nice glazed or terracotta pot (ideally at least 30cm across) and fill it with premium potting soil, ideally with one third compost or cow manure. Now choose a selection of compact less vigorous herbs and plant three different varieties in the pot. Larger herbs such as rosemary, sage or even parsley really need a larger pot like a wine barrel if they are to share with other herbs or a pot for themselves as they will take over a small 30cm pot. The best value way to get these herbs is to buy them in punnets but you might choose to buy slightly larger plants sold in the 10cm herb pots.
Ad. Article continues below.
Strawberry pots
The traditional terracotta strawberry pot has holes in the side for planting as well as the open pot. A 30cm strawberry pot will give you space for about 10 strawberries. You can buy them in punnets or buy the larger 10cm potted plants. Again use a premium potting soil, ideally with one third compost or cow manure. With the larger plants you might even have fruit by Christmas.
Veggie garden starter pack
Ad. Article continues below.
Seeds sown now will be ready for planting by the time Christmas gets here. You could use jiffy pots or even recycled punnets, which I am sure any gardener would gladly donate to you if you asked (I have a cupboard full of them). Choose quick germinating varieties suitable for planting in mid-summer such as loose leaf lettuce (either buy a mixture like Combo or the separate varieties including Cos, mignonette and oakleaf, just to name a few); spring onions, chives, garlic chives, basil, rocket, coriander, parsley, and even some root crops like beetroot and radishes. For something a bit more exotic make up a mixed punnet of mustards with mizuna (Japanese mustard), ruby streaks mustard and the giant red mustard. A packet of seed will fill many punnets with plenty left for your own garden, and the only other thing you need to buy is some seed raising mix. If you can find a recycled seedling tray, you can place around eight to ten punnets per tray and it will hold them secure and stable.
Care must be taken with any of these living gifts to make sure that you grow them on well, watering them as required (daily in hot weather). Be sure to feed them with seaweed based plants tonics when young and something to promote flowering and general plant health if already established.
Tell us, will you be giving someone a living gift this Christmas? What are your favourite plants to give to friends and family?