Great-grandfather hosts his own wake, says he'll do it again if possible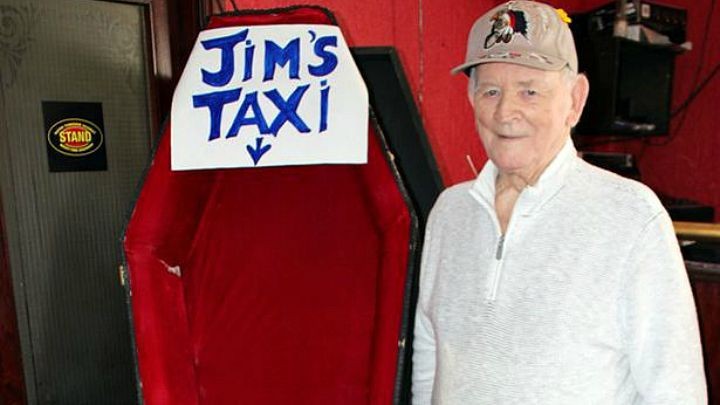 Jimmy Walker is 84 and doesn't have long to live but he clearly has a great sense of humour. The former brick-layer from Manchester in the UK organised his own wake, complete with a coffin (pictured above) and a cake decorated with gravestones.
Mr Walker hosted his wake at a local pub and used the occasion to raise more than a thousand pounds for Macmillan Cancer Support, a charity that supported his mother and daughter, who died of breast cancer at the age of 35.
The Mirror reports that some 200 people turned up to the Time Zone pub to celebrate the "live wake". The event included singers, karaoke and dancing, and Mr Walker was apparently chuffed when the pub owner presented him with the taxi-coffin as a joke.
"When I saw it I couldn't stop laughing, there were tears in my eyes," Mr Walker said. "When I got in it was too small and I burst it at the sides."
Ad. Article continues below.
Mr Walker had seven children and is a great-grandfather 19 times over. Sadly, he has bone and prostate cancer and, despite looking great at 84, his prognosis is not great.
But he enjoyed the party with his friends and family immensely.
"If I'm still here next week, I'm going to have another," he joked. "I had a fantastic time and the pub was bulging at the doors.
"It was the best day I have had for a very long long while. Everyone was dancing and singing and all my friends and family were there to support me – dancing at your own wake, you can't beat it.
"It's a nice way to plan your way out," says Mr Walker.
Ad. Article continues below.
Rose Tipton, from Macmillan Cancer Support said, "I have never been to an event like Jimmy's before but it was such a joyous occasion, he may have started a trend."
Would you consider hosting your own wake if you were in Jimmy Walker's position? Could it be the Next Big Thing?