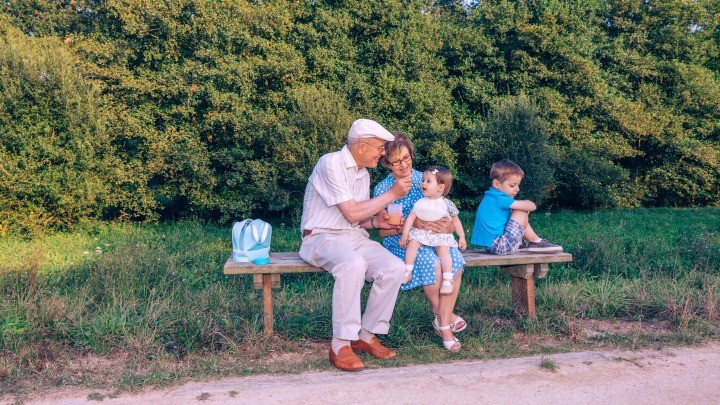 Do your children rely on you (or expect to rely on you) to look after their children? It's not a new thing, but there have been many stories of how children are using you as a drop off point for grandkids while they head off to work, a romantic dinner or even a weekend away.
Sure, as a grandparent you want to help out with your grandchildren, but you don't want to be taken for granted.
"Sometimes it seems as though my son and his wife view our every visit as an open invitation for them to escape — sometimes literally — and leave us with their four little ones," Kathy* tells Starts at 60.
"Don't get me wrong, I love my grandchildren, and enjoy spending time with them, but when my son was a baby I never dreamed of asking my parents, or my husband's parents, to take care of our son while we headed off on a cheeky weekend away."
In Australia, it's estimated that 50 per cent of children aged under three are regularly cared for by their grandparents. This free childcare adds a whopping $1.26 billion our economy.
Unfortunately for some grandparents, taking care of a young family means that retirement is effectively put on hold.
"For many, retirement aspirations include spending more time with lifelong friends, starting a new hobby, finding new interests or packing up for extended time abroad with loved ones," National Seniors explains.
"However, contemporary studies reveal that a small (but increasing) number of Australians are spending their later years raising grandchildren, instead of pursuing retirement goals."
New York City psychotherapist and grandmother Florence Falk says there is no question children today expect more from their parents than you ever did from your own parents. However, she admits this is largely because the parent-child relationship is a lot more relaxed and open now than it was with her own parents.
"But such a high level of expectation can put a real strain on grandparents," she adds.
"In my case, I have to remind myself 20 times a day that I'm the grandmother, not the babysitter. My goal is to help out as much as I possibly can, stopping short of the point where I start feeling resentful, completely drained, or out of touch with my own needs. There's a fine line," she says, "and it takes constant vigilance not to cross it."
Do you agree? What advice do you have for grandparents feeling overwhelmed with responsibility?
Comments