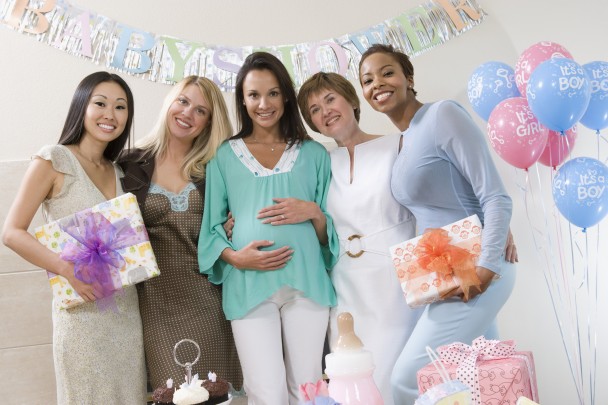 You may have heard about this trend of the baby market: the one where grandmothers-to-be are having their very own baby showers. It's rise to popularity started a couple of years ago, but you'd have to wonder just how practical and/or necessary such a thing is.
It can be an especially exciting time when your son or daughter tells you that you are going to be a grandparent, but do you need the elaborate shower complete with decorations, cakes, games and even presents? Perhaps not.
In the '50s and '60s, baby showers were often themselves big events held in the suburbs at the house of a friend or family member. Chances are you would have been dressed in your Sunday best, and because it was unlikely you knew the gender of your child the colour palette was gender neutral with greens and yellows and whites. You'd play games and you'd open presents.
Things were a little more casual in the '70s. Increasingly women were entering the workforce, which took them away from the home. Your babies seemed to require a lot more 'stuff' and it had to be new. By the '80s baby showers, if they were held at all, had themes that determined everything from food to decorations.
Not only are today's new mothers more aware of the dangers of smoking, alcohol and foods, they are also leaving it later in life to start a family. But some expectant mothers don't think that is cause for the grandma-to-be to have a party all of their own.
Mum of one, Monique thought the idea was ridiculous. She's not alone, with some new mothers saying that the focus of a baby shower should be on the new mother and her baby bump.
Etiquette experts like Miss Manners decry them: "Baby showers are intended to be for friends who are actually having babies."
However, this generation's mothers also accept they will be calling on their parents to help care for their child and/or provide childcare services, so a celebration to honour a woman's entry into grandmotherhood is one way for grandparents to get all the necessities for those responsibilities. Plus, parties are fun.
A new baby doesn't just bring excitement for the parents-to-be, it can be a joyous occasion for expectant grandparents.
Have your say. Are 'grandma showers' a good idea or just a little over the top?
Comments